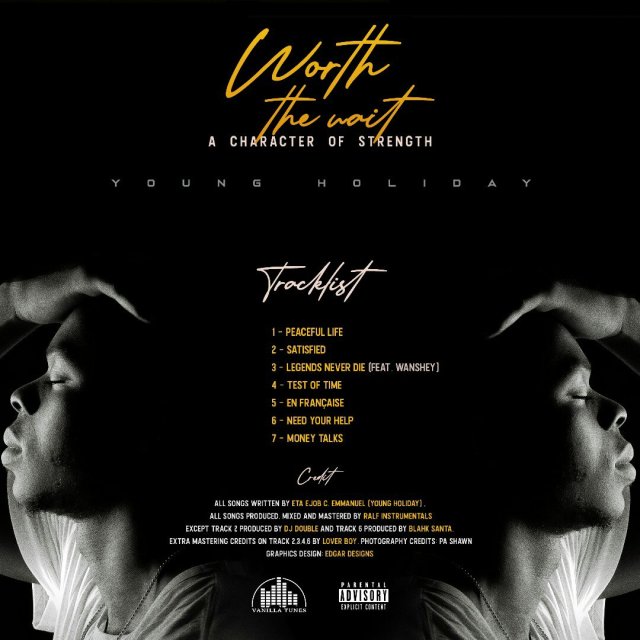 Worth The Wait – A Character of Strength is a performance of passion, truth, and consciousness by Cameroonian Hip Hop Artist – Young Holiday on the eve of His Debut Album Release!
The FREE EP Comes to tease fans ahead of time as the artist gives perspectives to the direction and Feelings which should be expected from the Upcoming Album.
The seven well-selected songs in this Extended Play are all picked after they didn't make it to The Album tracklist as a result of AnR Scrutiny.
We also seize this Opportunity to announce regretfully that the Release of Emmanuel Album, Earlier Scheduled For 01/03/2019 has been shifted a little further to 10/03/2019.  This is resulting from the fact that we are facing delays in clearing some Samples Used in the project, something we must do in order to guarantee Successful Worldwide Sales.
We Hope you Like the EP and you will be here to buy when the Album Drops!
Link to EP: https://vanillatunes.bandcamp.com/album/worth-the-wait
Credits
All songs were written by Eta Ejob C. Emmanuel (Young Holiday), All songs produced, mixed and mastered by Ralf Instrumentals Except track 2 Produced by DJ Double and Track 6 Produced by Blahk Santa. Extra Mastering credits on Track 2,3,4,6 by Loverboy. Photography Credits: Pa Shawn, Graphics Design: Edgar designs