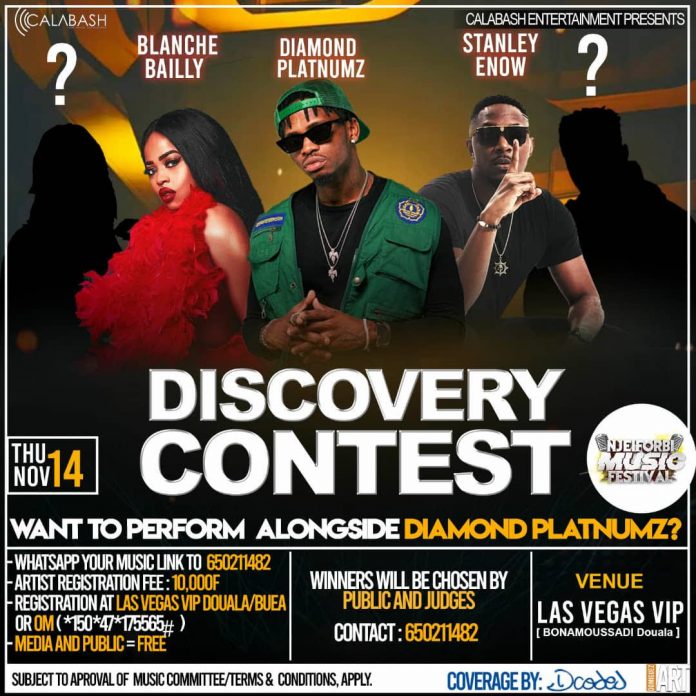 Despite a lot of controversy surrounding it, the Discovery Contest, which is one of the activities of the Njeiforbi Music Festival, was a success. Many persons in the music industry and in the media heavily criticized the contest because the participating artists were required to pay a registration fee of 10,000FCFA. This was seen as an exploitative move by the organizers vis-à-vis the artistes. Nonetheless, the Discovery Contest went on undisturbed.
The aim of this contest was to get the artistes who will perform in the first part of the Njeiforbi Music Festival Grand Concerts holding on the 22nd and 23rd November at Las Vegas VIP, Bonamoussadi and Paradis VIP Night Club, Akwa respectively. Thirteen artistes showed up to perform and a 3-person jury comprising of Tony Nobody, Eva Ndoumbe and Phillbeatz judged their performances. The performing artistes were; Ankia, Timag, Slim Harley, Dina Leonel, DJ Sixty, Dyonce, Jaheim, Dino, Fhish, Ralphy Nino, Kalley, and Miracle Pikin. And they all gave in their absolute best in order to be able to perform with Diamond Platnumz, Stanley Enow, and Blanche Bailly.
Timag of Sabuc Productions totally shocked the crowd and the jury as she performed her hit track "Tchakalisee". Her performance was very entertaining, highly engaging and she got everyone on their feet dancing even the judges and the several experts who had come to witness the contest. She had her dancers with her on stage and together they thrilled the crowd with scintillating dance moves. This performance instantly made Timag both the jury and the crowd's first pick among all the artistes performing for the contest.
Initially, four artistes were supposed to be chosen, with two performing at the two dates respectively but the artistes were so good that finally, we had six instead of four. Other than Timag, we have Fhish, Dina Leonel, Ankia, DJ  Sixty, Slim Harley and Jaheim who will be performing alongside Diamond Platnumz, Stanley Enow and Blanche Bailly come November 22nd and November 23rd. Meanwhile, all the other artistes who registered and participated in the contest will get free passes to both concerts in order to witness them firsthand.
Other artistes and industry experts such as; Sango Edi, Duc-Z, ACH4LIFE and Mink's were in attendance and they expressed their satisfaction from the performances and they equally applauded the initiative