There's a major crisis in Cameroon right now — and many of its best-known new school musicians have banded together to respond. Throughout the history of mankind, music has played a vital role in promoting peace, love, courage, and unity.
Artists worldwide have shown the courage to come forward and combat barbarianism and cruelty by spreading peace and harmony. Not only that, they have been part of revolutions against established societal norms, and also helped people realize the true importance of freedom with their strong lyrics. It has happened in South Africa With Miriam Makeba, Robbie Malinga etc, It happened in Ivory Coast With Didier Drogba, Soum Bill, Magic System, and Many other Ivorian Musicians, It Happened in Nigeria, It Happened in the USA etc
Everyone has their own favorite celebrity, maybe in sports, politics, cinema, business or whatever. Celebrities create an impact in the lives of people.
They can inspire people with their talent, hard work, sincerity, style etc.
The way, celebrities handle problems, relationships, lead personal life can be an example for people.
Celebrities have the power to communicate or to have reached with large people. They are the leaders to their followers. They must have the sense of responsibility to guide their followers for a better living.
Well, Its Cameroon's turn; the Country has been unstable and thousands of lives have been lost over Two Years due to the Ongoing Anglophone Crises. Cameroon Super Producer Salatiel who is also Owner of The Popular Record Label AlphaBetter Records has his urgent mission: to gather together as many prominent Cameroonian singers speak up about the violence and destruction esp in the country's Anglophone region that threatens not just a trembling North West and South West, but much of the wider region as well. He rallies some of the top young musicians (New School Generation) from Buea, Douala, Yaounde etc to lend their voices to a new Peace Campaign titled #WeNeedPeace. This Song features vocals from Salatiel, Nabila, Ko-C, Blanche Bailly, Daphne, Minks', Mr Leo, Pit Baccardi, Blaise B, Sango Edi. – The song was released about two weeks ago. Download Below
The project, dubbed We Need Peace, hope to bring together thousands of young people from Across Cameroon to inspire them to take part in and become the driving force behind the vision of a united and peaceful Cameroon.  Collaborations from these A-Lists Singers will highlight the possibilities that can come from working together and demonstrate how music has the power to transcend borders and differences and bring people together.
Now Over the past few days, these group of artists has attracted heavy criticism from some Cameroonians who blasted them for waiting two years after the country's crises to sing a peace song. Though some hailed Magasco, Salatiel and Mr. Leo who has long aired their message through peace songs over a year ago, the majority of #WeNeedPeace artists were lambasted for pretending and consoling themselves.
Among those set to perform at the event are Rwandan songstress Knowless Butera, Urban Boyz, Innoss'B, Krest Crew, Jabba Junior, and the African Children's Choir. Peace One Day was founded by Jeremy Gilley an actor turned filmmaker, who in the late 1990s became preoccupied with questions about the fundamental nature of humanity and the issue of peace.
The event aims at institutionalizing 21 September and making it an annual day of global unity and a day of intercultural cooperation. In 2014, the organization launched a three-year project in the Democratic Republic of Congo (DRC) and the Great Lakes region of Africa for Peace Day. More details in the video below.
Due to the State of Insecurity in Buea, Most anglophone artists have relocated to Douala and recently gathered to shoot the music video of #WeNeedPeace. The set was visited by other celebrities who came to support the movement. The Video is directed by Dr. Nkeng Stephens. Some people say these artists are singing because they sense instability boiling in French Cameroon due to the recent Presidential Elections whereas they have been completely silent over the Anglophone crises.
Below are some of the reactions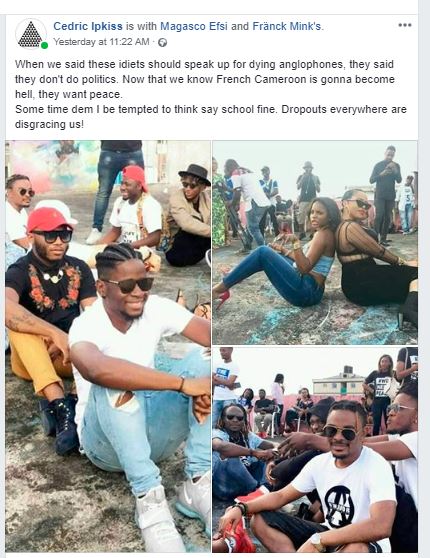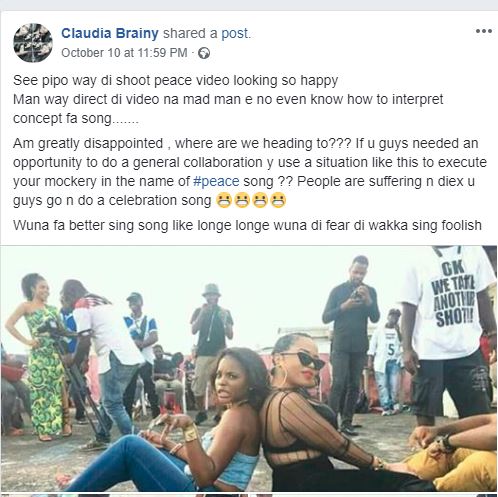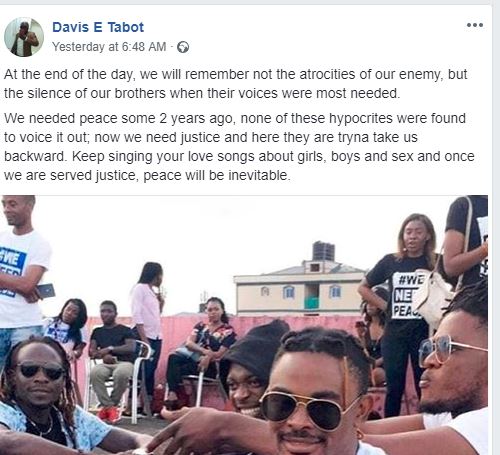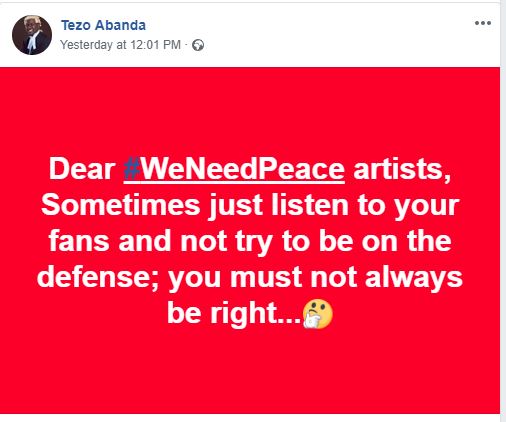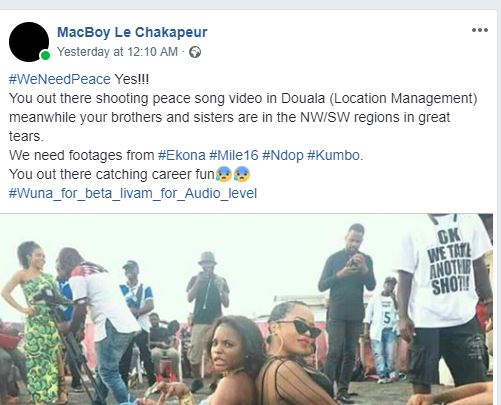 Below are pictures of the BTS of #WeNeedPeace Video
Well, we do hope Radio stations and websites will receive and deliver the campaign's message.