"Where I am From, The Police Burn The Village of My People, So they Now Live in the Bush" this is just the intro of Young and independent rapper Marc Cedrik' as he takes the first step to unlocking his rap potentials on his debut EP titled – ESPRIT EP''.
The 8 Track Episode features three main guest artists which include Dready Christ, Yung Time, Chantal Travolta, Spido, Tilla, Kikoh Production credits from Genius Freshman, Boy Karl, Abztrumental and Jayon OTB.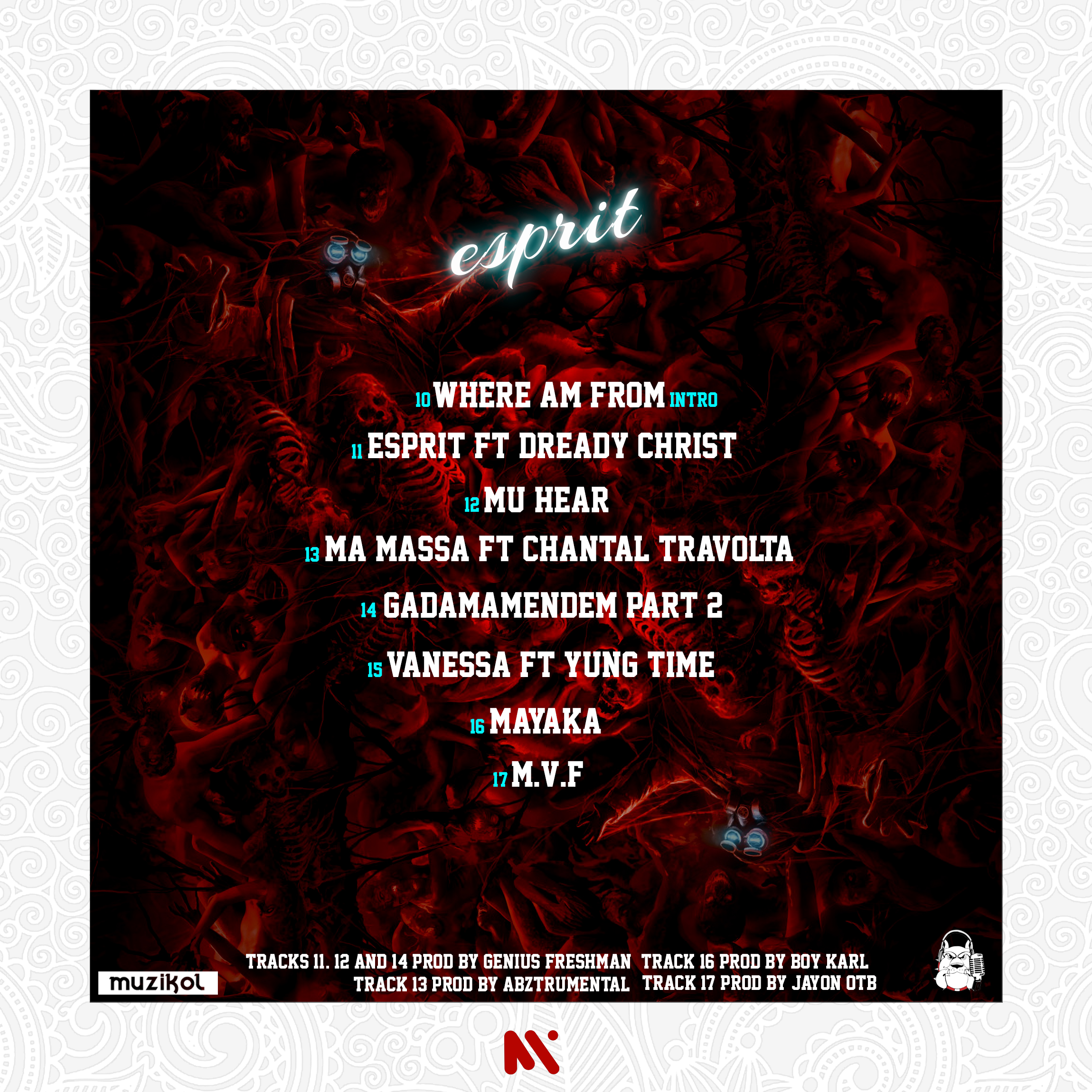 Esprit kicks off with 'Where Am From"', the one-minute six-second intro track sees Marc Cedrik detailing the state of the Anglophone regions and the ongoing Crises that have led to the loss of thousands of lives. It takes a lot of courage to put out such message to the world, so this is a plus for Marc's Intro. Listen Below
Those are the questions and answers that Marc Cedrik ask and answer on this 8 track body of work, "Esprit".
Track 2 features talented and highly underrated artist Dready Christ, titled – Esprit. Which may mean – Mood is more basic than exciting, but sees better chemistry between both artists as they manage to keep their presence large enough with his delivery and flow.
Track 3 titled – Mu Hear is actually my favorite track of this album, this should be one of the best hip hop songs released this year. Marc Cedric gets the party started with this tune. He displays his brilliance when it comes to scoring a commercial Mboko street anthem as he rap goes well with the mood.
This is followed by 'Ma Massa', a song that aims to sell and not to please, Upcoming singer Chantal Travolta is the guest artist here and together with Cedrik unveil their raw side.
Cedric Remixes his career debut single – Gadamamendem – as he recruits Spido, Tilla, Yung Time, Kikoh for this better version worth listening.
In track 6 Marc Cedric chants as he dedicates the song to a "lost friend" who was killed during the crises and can be interpreted as a close person who Cedric had a crush on. This track features Otantik Rapper Yung Time.
Now Marc Cedrik is singing and rapping in French and Pidgin in track 7 titled  – Mayaka as he attempts a commercial angle.
Track 8, M.V.F meaning Marc Vivian Foe is a good way to end an album. With an impressive beat by Jaywon OTB, Marc Cedrik refers to himself as Marc Vivian Foe (Former Indomitable Lion Midfielder) crediting himself for his career choices. Though the first verse was hard he later fails to pack enough punch-line as the beat keeps rolling, the lines are quite corny though.
We can easily say it is safe to say that Marc Cedrik has opened a new chapter in Cameroon Rap culture, though I in particular never predicted success when he debuted his single "Gadamamendem' Featuring Kikoh.
Esprit is a decent initiation from a hungry artist that has all the raw will to succeed, the beats are good, but nothing special, the collaborations work and enhances his appeal.
It does not offer the pre-eminent lyrics you'll ever hear or innovative music that will make you pen him down on your list of next rated, but he understands his music and his target audience.
His raw flow is also quite perceptible and backed by awesome beats Marc Cedric will be here for a while I Must say I am quite impressed with this EP, but will his name be first on the last few years down the line? We wait to see it.
Rating: 6.5/10 Worth Checking Out
Purchase ESPRIT ON ALL ONLINE STORES
Esprit Playlist on Google Drive 
🏽
Listen to Esprit on YouTube
🏽
Download Esprit On #Muzikol 
🏽
Listen To Esprit on iTunes 
🏽
10 Where am From
11 Esprit ft Dready
12 Mu Hear
13 Ma Massa ft Chantal Trovolta
14 Gadamamendem part 2
15 Vanessa Ft YungTime
16 MaYaka
17 MVF(Marc Vivien Foe)
Sent from my iPhone