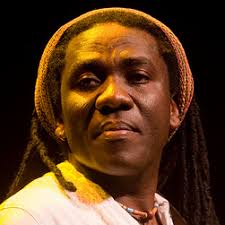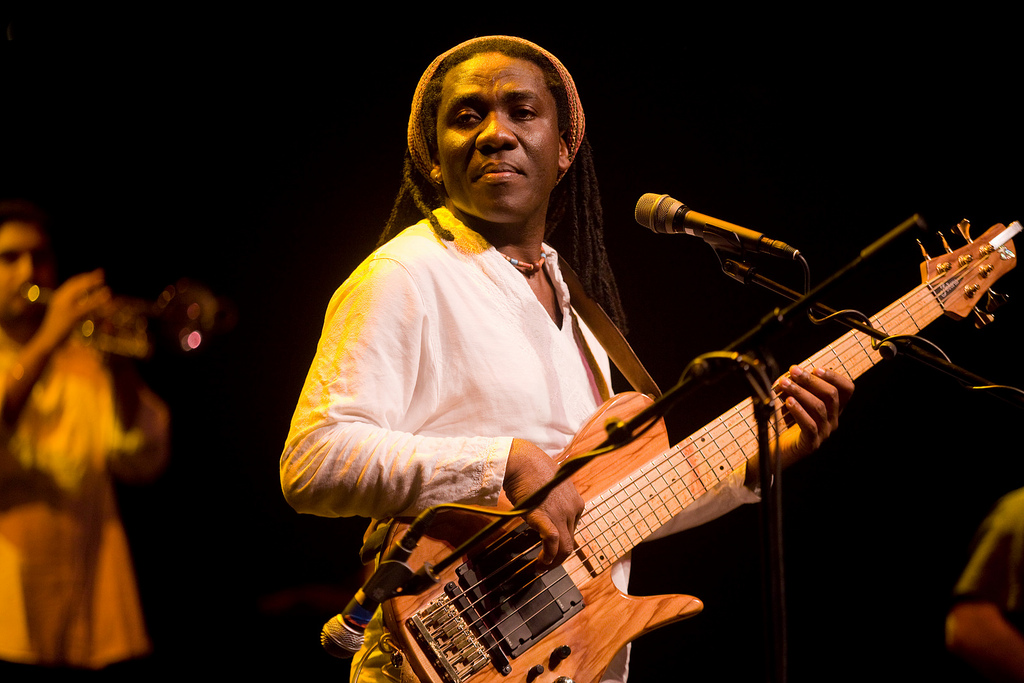 Legendary Cameroon musician Richard Bona is very angry about a video which was broadcasted on July 11 on the official Facebook page of President Paul Biya, which touts Cameroon as an indivisible, united and proud country.
The short video of about 1min 13, presents the cultural wealth of Cameroon, its geographical and agricultural wealth. The video also presents some Cameroon leaders in their different field: from sport to culture, we can see Roger Milla, Adolphe Teikeu, Manu Dibango, Grace Decca, Richard Bona. And that's what bothers the Jazz singer. "To. Mr BIYA and his Government … I beg you immediately to remove my image from your video. The right to the image obliges!" He wrote via his official Facebook page on 14th of July.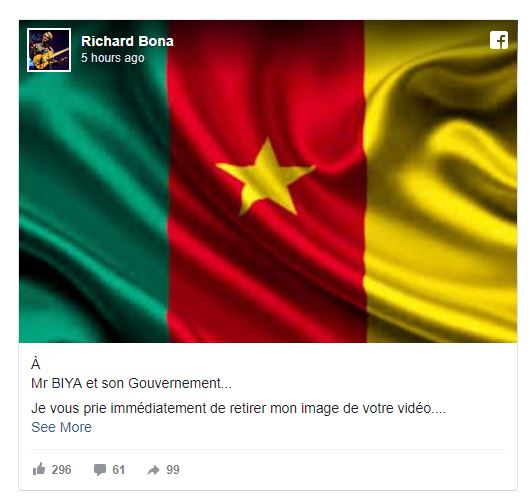 Rather known as a singer-songwriter and exceptional bassist, Richard Bona quickly became a regular feature in the political field in Cameroon. Richard Bona's feud with Paul Biya and his government stemmed when he was  asked to required a visa to enter Cameroon and this made him refused a medal which was awarded to him by the President of the Republic Paul Biya in 2017 Since then, he does not hesitate to rise to denounce the attitude of the president and his collaborators.
" Et c'est toujours vous qui recommencez. Encore et Encore… Que cherchez-vous? Je n'ai pas pu accompagner ma mère vers sa dernière demeure, parce que certains membres du régime ont décidé qu'officieusement ou officiellement je suis personne "NON GRATA" au Cameroun… Ce que j'ai respecté en Silence. Aussi j'avais dit ne plus revenir tant qu'on exige un visa à l'un et pas à l'autre. Maintenant de voir ce même Gouvernement afficher mon image??? U got to be …… kidding me. Non Non Non j'en veux pas. " Ecrit l'artiste sur son compte Facebook.

Et de poursuive "Où sont passés vos grands artistes??? Et votre nouvelle génération de la dégénération aux abonnés " INCULTURE"…??? Ou encore vos chanteuses qui brillent que par leur "nudité"??? Tel est réellement le nouvel ordre culturel 237. Ceux-là feront un beau casting pour vos vidéos. Pas moi… À mesure que le temps passe, vous n'avez même plus honte. C'est bien pourquoi vous tomberez encore plus bas. Ma Sincerité et mes Convictions vous hanteront à jamais
Sources: Henriettes Lounge, Official Facebook page of Richard Bona, Official Facebook Page of President Paul Biya