Emmanuel N'Djoké Dibango, the iconic musician behind such hits as "Soul Makossa" and "Aye Africa" over a six-decade career, has died at the age of 84 from the deadly coronavirus infection, his official social media page announced early today.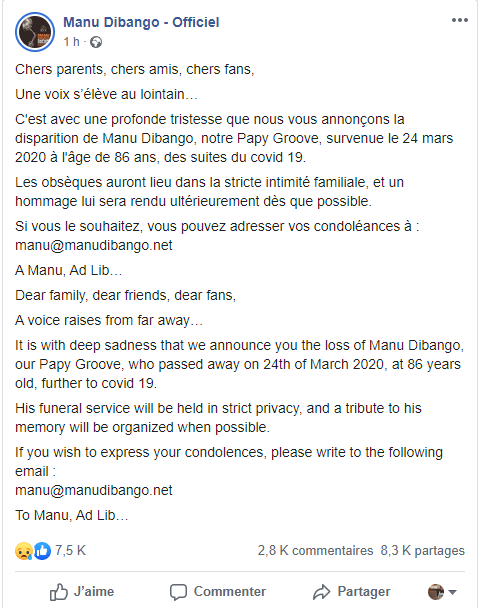 SOUL MAKOSSA
Manu Dibango has enjoyed a long career as a musician and songwriter, developing a fusion of Jazz and African musical styles. This song which was released in 1972, came early in Dibango's career and was introduced to Wester listeners. This song made the US Top 40 only briefly but later became notable for 3 reasons.
The first is its refrain, "Ma-ma-se, ma-ma-sa, ma-ma-kossa," which late American music icon Michael Jackson borrowed for his 1983 hit "Wanna Be Startin' Somethin'," but without Dibango's permission. Dibango eventually reached an out-of-court settlement with Jackson over the lyrics.
Dibango also had filed a lawsuit against another popular musician Rihanna. When Rihanna came calling in 2007, asking to sample Jackson on her song "Don't Stop the Music," Jackson agreed – allegedly without contacting Dibango. https://www.theguardian.com/music/200…

.

The third reason is the genré, and the pop culture phenomenon, that the song set in motion. "Soul Makossa" was so popular as a dance song that its style began to be emulated and further developed by American dance musicians – and eventually took on a life of its own. As a result, this is now widely regarded as the first Disco record. Whenever it was dropped on Dance floors in New York it lead to "dance battles." Blacks, Italians, Latino's and Whites couldn't get enough of this groove and strutted their stuff when this monster tune came on.
Over his career, he collaborated with many great musicians, including Fela Kuti, Herbie Hancock, Bill Laswell, Bernie Worrell, Ladysmith Black Mambazo, King Sunny Adé, Don Cherry, and Sly and Robbie. He achieved a considerable cult following in the Western world.
His family plans a small private service due to the coronavirus outbreak, the statement said.
Below are some of his other big hits
Rest In Peace African Giant