Samuel Eto'o has taken to Twitter to call out France Football, the organizers of the Ballon d'Or awards for shortlisting him as a right-winger in the Ballon d'Or dream team.
Eto'o was included in France Football's shortlist for the Ballon d'Or Dream Team, an all-time best 11, which should be a huge compliment for any player.
However, the legendary footballer found the nomination disrespectful because he played as a center-forward in his over 2-decade-career.
Eto'o wrote: "Merci, Mais j'ai joué 1,2 saisons sur la droite (pourtant j'ai 25ans de carrière comme avant centre) Le manque de Respect. @francefootball N'IMPORTE QUOI!"
"Thank you,
But I played 1.2 seasons on the right (yet I have 25 years of career as a center forward)
The lack of respect.
WHATEVER!"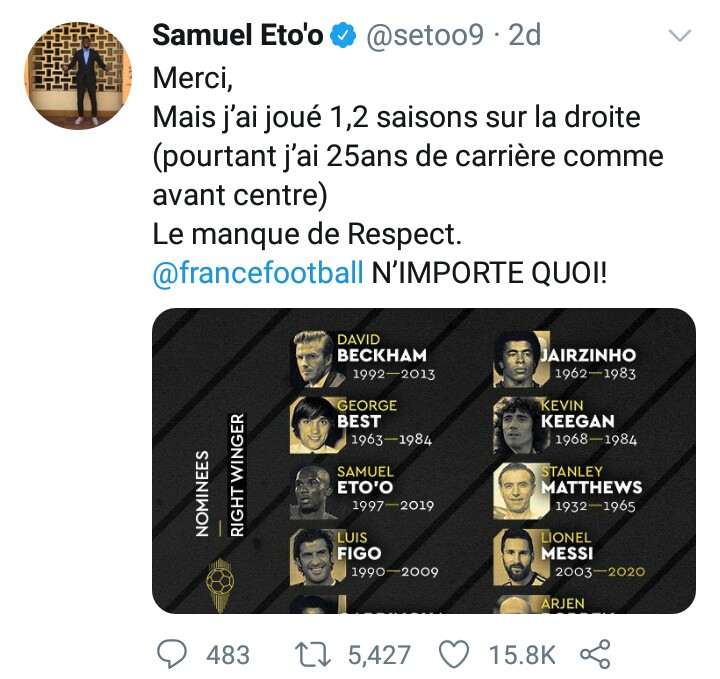 The 39-year-old striker during his football days, excelled as an ace striker while in Barcelona, Inter Milan, Mallorca, Sampdoria and Qatar SC. Back in Cameroon, he emerged as all-time leading scorer with 56 goals in 118 caps. To Eto'o, this should have earned him a center-forward nomination and not right-winger.