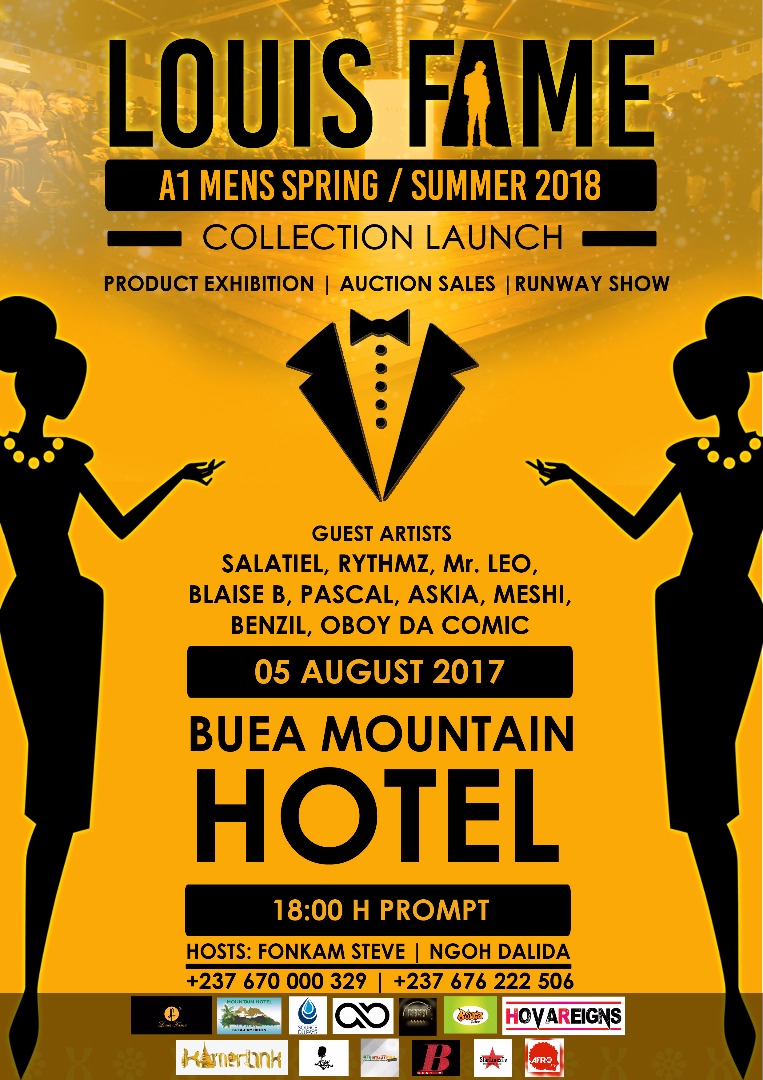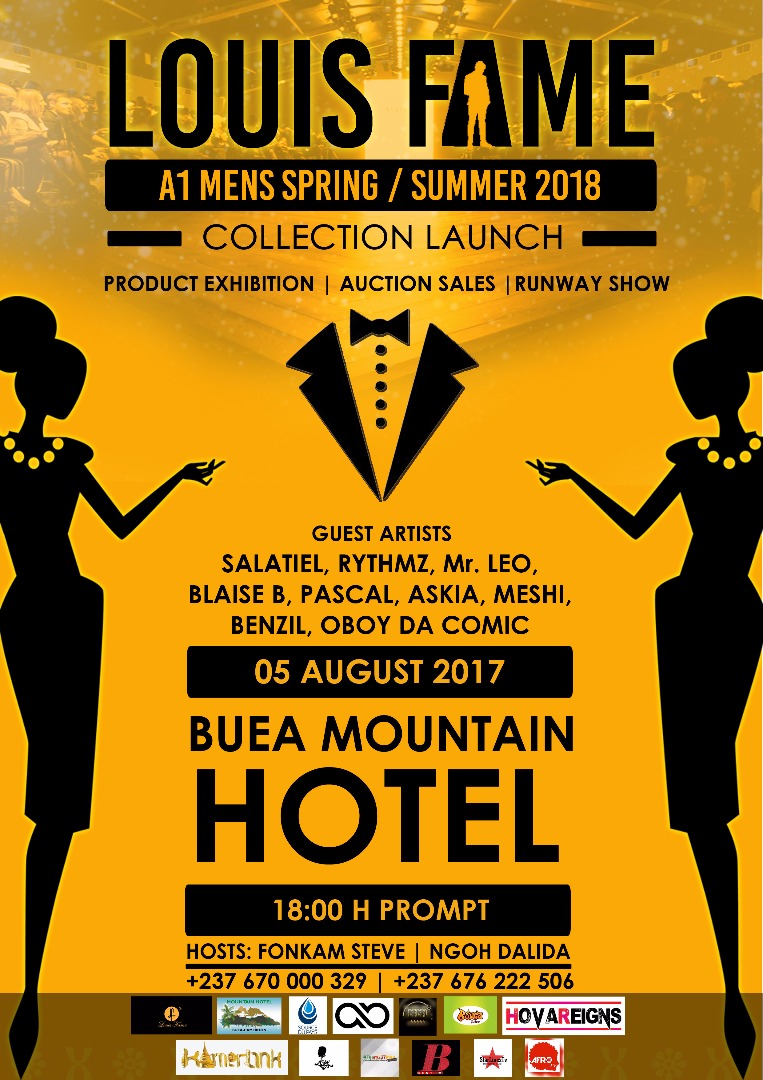 Louis Fame Clothing, an International Clothing Brand based in Africa – Cameroon is thrilled to announce their maiden fashion exhibition show scheduled to take place on Saturday, 5th August 2017, 6 pm prompt at Mountain Hotel Buea.
The show is organized to release a new collection from the Famous International Clothing Brand (LOUIS FAME CLOTHING). It will be a pure fashion exhibition show; with basic interval animation from top Cameroon music artists. The show will be divided into two phases; with the first phase being the release proper of LOUIS FAME A1 MEN'S SPRING/ SUMMER 2018 COLLECTION. The second phase, however, will be more animated; embodying a combination of arts and fashion to produce exceptional and breath taking results never witnessed before in the Cameroon fashion/arts industry. The show will exclusively accommodate LOUIS FAME CLOTHING, with no guess designers showcasing on the same stage.
During the event, there will be sections fully decorated and stocked with items from previous collections of Louis Fame Clothing for purchase by attendants at a discount. A special corner will be reserved for the sales of the collection of the day to privileged participants at a reduced price. The show will equally witness the presence of prominent personalities and promoters in the arts and culture domain within and out of Buea. There shall be adequate media coverage to expose the idea to the rest of the world with the view to draw massive attention to this great and unique concept
The event which marks the inception of a series of events is intended to be a quarterly show (four times a year). It will bring together fashion lovers, Kamer celebrities, companies and distinguished individuals from different works of life; within and out the country.
This collection is inspired by an Urban/African blend of art; carrying brand lines and icons with bright and royal colors to reflect the quality and originality of the brand. Products from this collection are made with high-end fabrics such as Cashmere, African Prints, wool blends, Denim etc. Flawless finishing evident on pieces from this collection is geared towards achieving customer willingness to pay premium prices for perceived value and quality.
ABOUT LOUIS FAME CLOTHING
The inception of LOUIS FAME CLOTHING as a Fashion and Style Brand dates back to 2008when the first creation was made. However, the brand went fully operational few days after Louis featured amongst the finalist and one of the winners of the Guinness Made of Black Style Sew Project in 2014. This experience also inspired the designer to produce and launch the ever first collection which was widely sold in stores and other sales outlets. In the same year, LOUIS FAME went on to create 17 original designs that made up his Royal Boss 2014 spring/summer collection. Upon entering the Buea market in August of 2015, the LF brand launched into over 5 retailers across Cameroon. The energy and excitement around the launch of this new designer collection cast a bright spotlight on Louis Fame
In December 2015 Louis Fame was hired by Brasseries Du Cameroon to style a TV and
Billboard Commercial for the Mutziq Beer. This afforded them the opportunity to re-brand the LF- Company; hence adding more influence on its growth. These and more caused Louis Fame to appear on several local and National TV which gave the brand a wide market. Due to the expansion in market share and internal growth, the brand decided to increase her man power by putting together a four (4) man team in early2016 comprising of Louis McCarter as President,
BessyNjuma as General Manager, Bokossah Scott as PRO and Sama Tanya as Marketer.
Buea has offered the brand enormous opportunity for dressing celebrities within Cameroon and internationally. The brand is continuously growing and working towards becoming the African Phase of Fashion and Style Globally.
Currently, LOUIS FAME operates from their fashion house located at Chief Street, MolykoBuea where they have been since 2015.