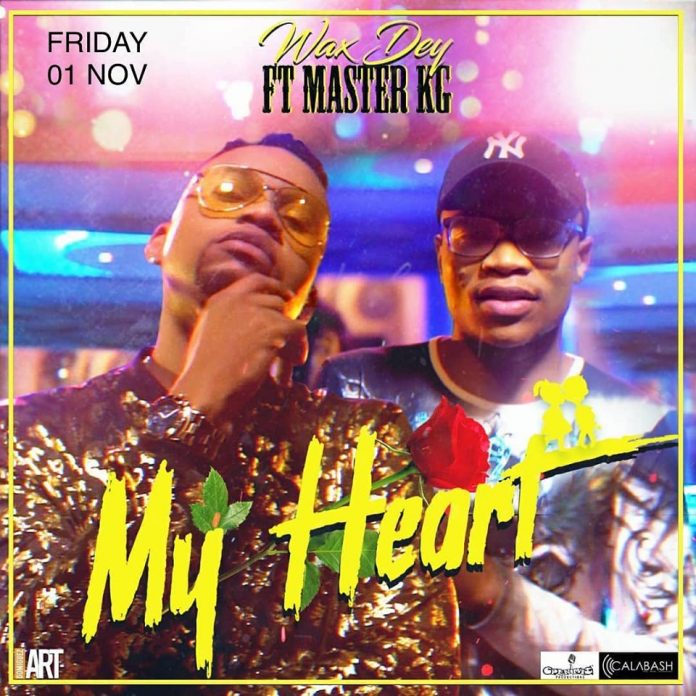 Wax Dey Join Forces with one of South Africa's biggest Star – Master KG to drop an impressive Afro House recording titled  – My Heart.
"My Heart" is a soothing love song delivered on an up-tempo tribal dance beat, co-produced by Cameroon's Method J and Master KG. It is Master KG's first international collaboration since his big international hit, Skeleton Move, and his first release since winning the AFRIMMA award for best Southern African Artist.
The song also introduces new artist, Rose Njoh, in her first professional outing, as she delivers a breathtaking verse in French and Douala. The video is shot at La Colisee in Bastos, Yaounde, by maverick director Dr. Nkeng Stephens. "My Heart" is a song that will rekindle the fire of true and lasting among couples all over the world. Both singers are billed to perform the song together for the first time on November 23 at the upcoming All Africa Music Awards in Lagos, Nigeria, where Wax Dey is nominated for Best African Pop Artist.
For more info: contact@calabash237.net / +237 65039009 or music@open-mic.zo.za /+27126451088.
Follow Master Kg:
Facebook: https://www.facebook.com/Master-KG-SA…
Twitter: https://twitter.com/MasterKGsa?lang=en
Instagram: https://www.instagram.com/masterkgsa/
Follow waxdey:
Instagram: @waxdey Facebook:
Facebook.com/waxdey (Wax Dey)
Twitter: @waxdey