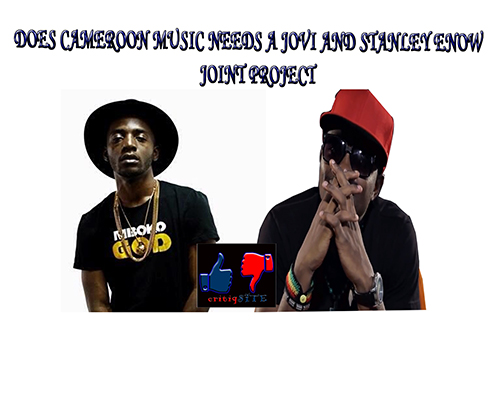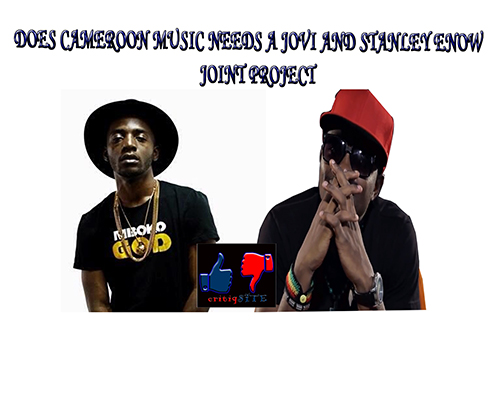 Cameroonian hip hop fans can't wait to get any good news or insights about a possible collaboration between their most admired hip-hop performers (Jovi and Stanley Enow) in the Game.
Stanley Enow recently endorsed Jovi's hit release "Munshung" video by sharing the video on facebook and hashtagging "one of my best songs of 2016". Though most people claim "Munshung" is a diss shot aimed at Stanley Enow, JOVI hasn't said anything on that subject and critiqsite doesn't think that was a diss song to Stanley either. A lot of people expected JOVI to be resilient about Stanley endorsement and set their difference aside. Remember Jovi endorsed Stanley Enow's 2014 MTV MAMA nominations and asked fans to help vote for Stanley Enow. Again these two have their own personal life and ways of doing things, as celebrities, they may feel like nobody needs to pressure them to reconcile and can obviously do it on their own surprisingly like what Stanley did (nobody saw that one coming).
Both Jovi and Stanley Enow's roles in the music industry cannot be underestimated. JOVI personally been responsible for bringing out many upcoming artistes such as RENISS, MAGASCO, TILLA, PASCAL and a few others who have been shaking the industry in their own major ways. JOVI can be described by many Cameroon Hip Hop fans as Cameroon HIP HOP MESSIAH. His debut "DON 4 KWAT" stimulated a new rap era style, every hip-hop dreamer realized they can do better by rapping in pidgin and other local patois. Not only rappers, but singers can sing in pidgin which will make listeners to enjoy music done in their native language. His music is street conscious, rapping about the ghetto life and using vulgar and explicit languages common ghetto inhabitants will love to hear; therefore he is a leader in many ways to the rappers of Cameroon. Not only rapping but he is known for his excellent sound engineering and beat production, drawing international attentions such as AKON, J Martins etc.
Stanley Enow, on the other hand, has done a lot to bring a Cameroon presence to Africa and the world, he depicts the perfect example of putting Cameroon on the map. Stanley Enow's "Hein Pere" song released in June 2013 is one of the songs that took Cameroon music to another level and better recognition for the Cameroon music worldwide. He breaks a record by been the first Cameroonian ever to win an MTV Award in 2014. Since then he has remained relevant and consistent in the music industry, having his own record label Motherland Empire. He has performed alongside international artists like P-Square, Olamide, Ice Prince etc. having done international collabos with Nyanda (of Brick and Lace), Olamide, AKA, Sarkodie, Ice Prince etc. Stanley Enow defines musical Success in Cameroon.
So, we are going to keep this as short and straight-to-the-point as possible. Jovi and Stanley Enow are both largely considered among the finest talents in these parts, is Cameroon music industry in need of a mega collaboration from these two heavyweights? These two are the gate-keepers of Cameroon music industry.
If you consider yourself a Cameroon hip-hop fan, please let us join hands, get down on our knees, and collectively pray that these two super rappers go a step further by blessing us with something special in 2017. They need it. We need it. Cameroon Hip-Hop needs it. Africa is waiting for it.
Jovi and Stanley… your move!
Watch their ICONIC Debuts Below