8-2!
This is not a dream, it's reality! The sad reality!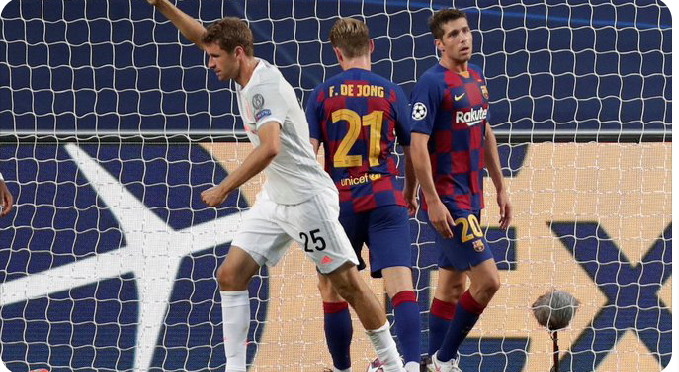 MESSI and his team's mates shall not forget so soon this astonishing spanking at L' Estadio da Luz. This was far to be a match! Not at all! A ball, maybe, but not a match!
The Tone was set from the first half's fourth minute after MÜLLER's magisterial strike which dismayed Barcelona goalkeeper. The answer of the shepherd to the shepherdess,  Barça's players equalizes and forget themselves when they're brutally awakened by STEGEN's sensational cross-shot. The German club is then unstoppable, the missile avalanche is triggered, from two to eight goals at the end. The Spanish club luckily scores a second goal, but that's unfortunately all. No one can explain what happened what really happened to Barcelone night. Barcelone, the Beast! The Giant that used to make us dream! Some experts said this historical defeat is due to QUIQUE SETIÉN'S tactical choices. Statistics even proved that Bayern scored (8) more than Barça shot (7).
Will  Lionel Messi, the six-time Golden ball and European Golden Shoot, leave Barcelone through the smallest door? He that is tipped to be transferred to Manchester United, Inter-Milan, Juventus (…)?
#AudreyQueen
#Critiqsite #football #LionnelMessi #Barcelone #Bayern
If you missed it, just follow the link below 👇👇👇👇