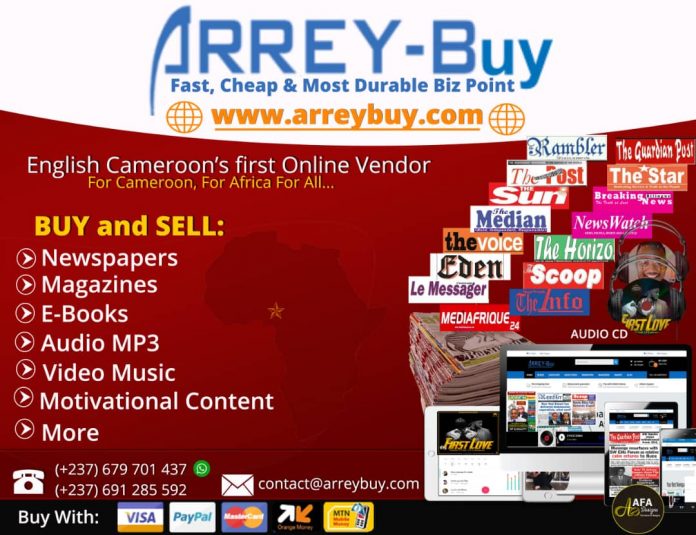 The ARREYB Media team is glad to announce the come back of ARREYBuy, English Cameroon's First Online Newspaper Vendor.
ARREYBuy is now upgraded and allows vendors to create accounts, upload from home and see their sales.
Buying can be done with mobile money (mtn/Orange) and PayPal for international transactions.
*ARREYBuy now Serves ALL, Not just Newspapers and Magazines*
Our new publishing policy includes ALL.
ANYONE who creates any electronic content can sell on ARREYBuy:
Newspapers/Magazines
Artists sell your EPs and singles(audio and video), make some cash with your art
Comedians sell your Comic vidoes
Authors sell your books
Motivational Speakers sell your content (audio, video, write-ups)
Bloggers sell your hot Gists and educative write-ups
Teachers Sell Your hand-outs …
Preachers sell your messages (video/audio)
Schools sell your books
Event planners sell your event tickets
Etc
We are creating a trending electronic store with more than 50.000 views on your product via our publicity.
*Anything electronic can be bought and traded on ARREYBuy(french or English)*
Visit the site : http://www.arreybuy.com
Contact: +237 679701437
mail: arreyb2017@yahoo.com
NB: Our team has produced online tutorial videos for buying and uploads
#ARREYB #ARREYBuy #BFF #ICM
#ATouchOfPerfection
#NotJustBlogging_Professionalising