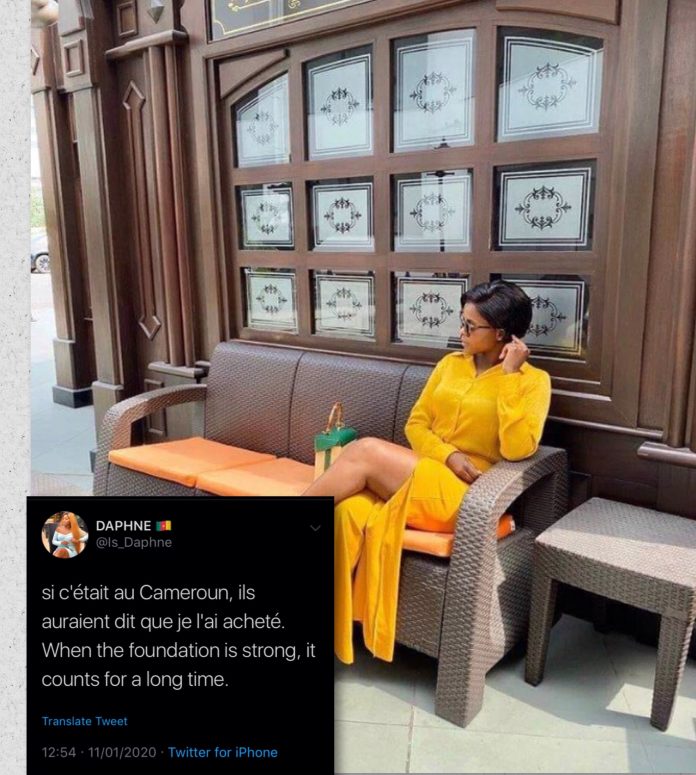 Stardom in Cameroon is a very tricky thing, I say this because in Cameroon we keep crying that we should support each other. A thing which is albeit good but sometimes you wonder if these stars are meritorious of it.
Daphne has been nominated for an award in Lagos, Nigeria. Precisely the SoundCity MVP awards and I have been following her closely and her recent tweet just took me off. When Akon made his emotional speech about every country being a brand I'm sure Daphne was in the studio, because she clearly didn't get the message.
I don't know whether she plans to relocate to Nigeria.
We need to protect the image if our country in order to be taken serious, as an artist or whosoever when you step out of the country you are an ambassador of your country if you can't praise the country, which nobody will ask of you, just stay quiet in order to protect your country's brand.
Daphne in some odd outburst says in her tweet "Si c'etait au Cameroun ils auraient dit que j'ai achete". I know that Cameroon is bad but right now with Daphne out there a lot of people are checking out her social media and when they fall on that kind of message as the first thing about Cameroon it is a national tragedy.
Meanwhile it is this very Cameroon, like it or not, that has helped Daphne's rise to fame and when she turns to give back to Cameroon like this then its depressing!