Ten Days from now (20th of August) one of Cameroon's esteemed Urban Music award show, Urban Jamz Awards, will be doing its 5th edition featuring 18 unique categories in recognition of Cameroon's finest artists.
The Urban Jamz Awards was established in 2016 by Actor/Critique/Media influencer Atia Valery to recognize outstanding achievements in the Cameroonian Urban music industry. The award show will take place on 20th March at Sale De Fete Akwa- Douala Cameroon.
This year 60 artist were nominated in 18 categories, there was a drop in the nomination of artists and categories as compared to that of the last year 2019.  Ko-c and Salatiel top the list with the most nominations, having earned 7 Each. Blanche Bailly comes in at second place with 6 nominations. Whereas Daphne is nominated five times.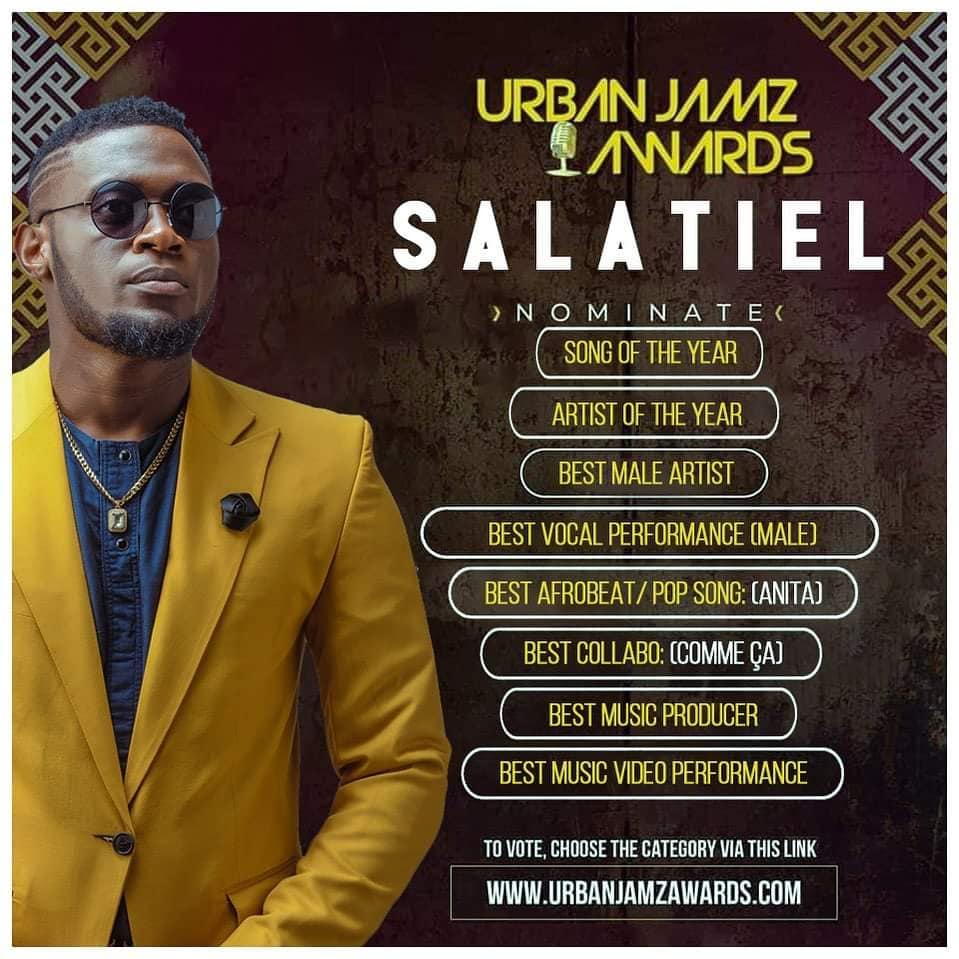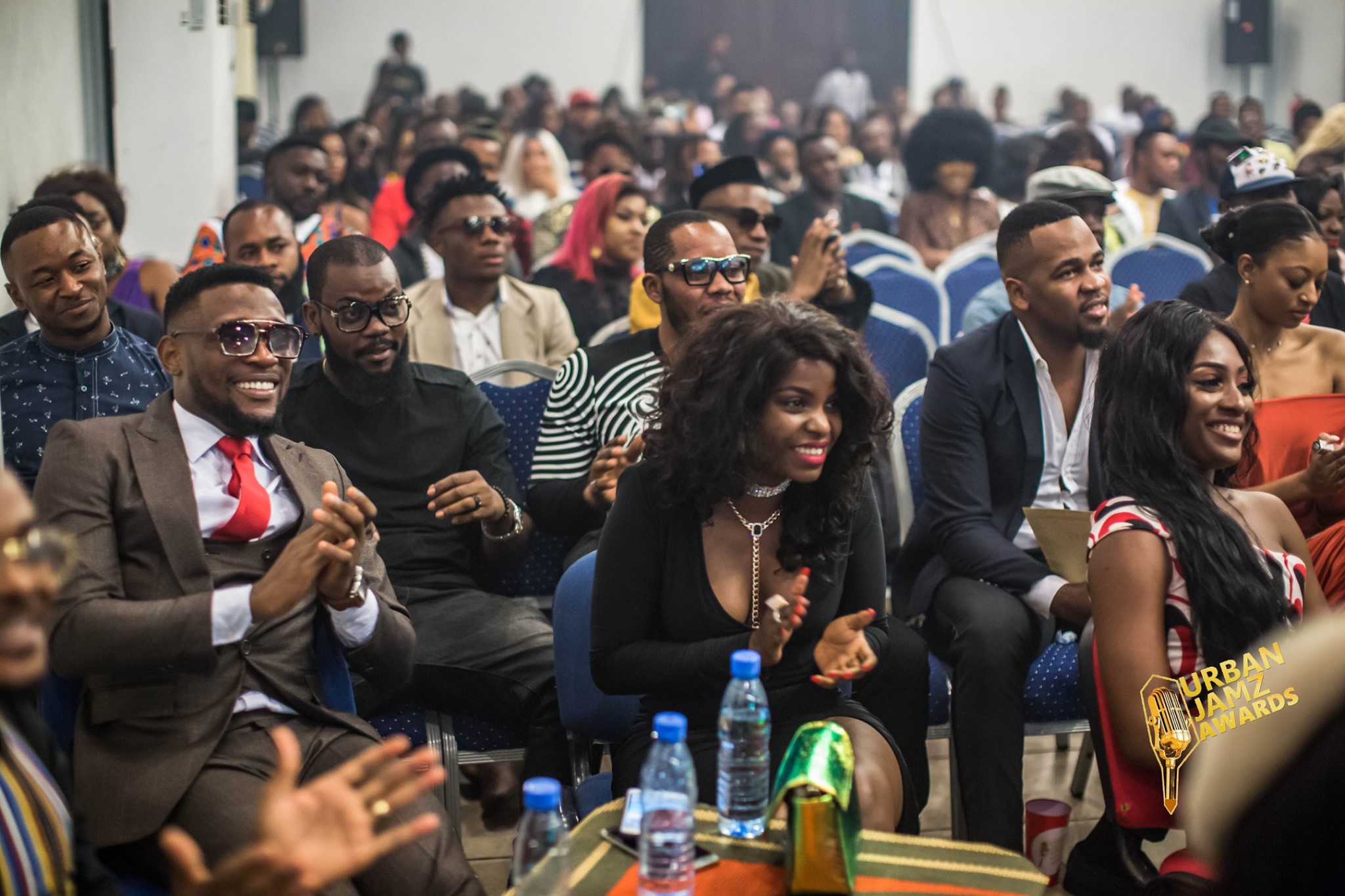 The ceremony will feature performances by established and promising artists.
The full list of nominees below:
ARTIST OF THE YEAR

KO-C
MIMIE
DAPHNE
SALATIEL
X-MALEYA
TZY PANCHAK
STANLEY
BLANCHE BAILLY
NYANGONO DU SUD
BEST MALE ARTIST
JOVI
K.O.C
AWU
TENOR
LOCKO
MR LEO
TZY PANCHAK
SALATIEL
MAGASCO
NUMERICA
STANLEY ENOW
BEST FEMALE ARTIST
MIMIE
GASHA
NABILA
DAPHNE
ZINNIA
SANDRINE NNANGA
BLANCHE BAILLY
CHARLOTTE DIPANDA
TOKI LALA
LYDOL
BEST AFROTRAP/HIP-HOP SONG
JOVI-OULEU
SPIDO-WAAAH GRAND
NGOMA-PENYA
PASCAL-DEVIL NO REALLY SLEEP
BIY TAG-GRANDMA
WAN SHEY-ANDIRIFAA
YOUNG HOLIDAY-BANG(CYPHER)
SONG OF THE YEAR
ANITA-SALATIEL
CA CUIT-KO-C
SOKOTO-JANEA
FOUPFAP-NYANGONO
L'ARGENT-BLANCHE BAILLY
YAYAYO-AWU
OVERLIAD-ZINNIA
RAMBO-AVEIRO DJESS
HEIN HEIN-LOCKO X SINGUILA
MA FOR BAFUT-AMBE X FRIENDS
BEST ALBUM
JOVI-GOD DON KAM
NABILA-MON UNIVERS
CYSOUL-AKIBA
WAX DEY-FINAL LIGHT
MAGASCO-HEART
VREEY VILLE-KING OF DIASPORA
YOUNG HOLIDAY-EMMANUEL
BEST EP/MIXTAPE
JOVI-GOD DI KAM
SPIDO-LE NKWADANG
KIKOH-NDENGUE BANDERAS
WAZIH-ANOTIC
CYSOUL-ECLOSION
SKIEZY ANYENKA-THE CHASE
BEST DIASPORA ARTIST
ZINNIA
MAKIZAR
MD LYONGA
TASHA TEE
VREEZY VILLE
ADELE CLARICE
ASHLEY STEPHANIE
BEST VOCAL PERFORMANCE (FEMALE)
GASHA-FAKE LOVE
LESLINE-MY WAY(COVER)
DAPHNE-DOUCEMENT
OLGHA NK-COLD
VERNYUY TINA-NA SO
SANDRINE NNANGA-POUR LA VIE
CHARLOTTE DIPANDA-A JAMAIS
BEST VOCAL PERFORMANCE (MALE)
FUL-ON S'ENTEND PAS
LOCKO-LET GO
MR LEO-AMEN
CYSOUL-EMMA
SALATIEL-ANITA
BLAISE B-LE GOUT DE CA
BEST AFROBEAT/POP SONG
L'ARGENT (BLANCHE BAILLY)
NA SO (TZY PANCHAK X VERNYUY TINA, CLEO GRAE, VIVID)
ANTI KIRIKOU (FHISH)
YAYAYO (AWU)
CA CUIT (KO-C)
ANITA (SALATIEL)
FOR MY HEAD (MISTER ELAD)
POWER ANTHEM
KONGOSSA-MAGASCO
SOKOTO-JANEA
RAMBO-AVEIRO DJESS
CA CUIT-KO-C
L'ARGENT-BLANCHE BAILLY
FOUP FAP-NYANGONO
GOUTER CA-LE GRAND BARRACK
BEST COLLABO
AMBE X MAGASCO X MR LEO X BLANCHE BAILLY -NA FOR BAFUT
KO-X X FANICKO-SANGO
DAPHNE X BOY TAG-ALLELUIA
TZY PANCHAK X VERNYUY TINA,CLEO GRAE,VIVID-NA SO
LOCKO X SINGUILA-HEIN HEIN
SALATIEL X DAPHNE-COMME CA
WAX DEY X MR LEO X LOCKO-MAGOFULI
MR SHYNE X CHARLOTTE DIPANDA-A JAMAIS
BEST PRODUCER
IVO
DJ KARL
SALATIEL
PHILLBILL
SOFTOUCH
MCCOY TWAP
ABZTRUMENTAL
MASTER ROBOSTER
LE MONSTRE(JOVI)
BIG JOE & LOONEY TUNES
BEST MUSIC VIDEO DIRECTOR
CHUZIH
MR TCHECK
ADAH AKENJI
MR ADRENALINE
DIRECTOR POINTEH
DR NKENG STEPHENS
GERALDRICO GUEVARA
BEST MUSIC VIDEO PERFORMANCE
FHISH-ANTI KIRIKOU
KO-C-CA CUIT
MR LEO-AMEN
DAPHNE-DOUCEMENT
SALATIEL-ANITA
STANLEY ENOW-GOOD DAY
MISTER ELAD-FOR MY HEAD
BEST NEW ARTIST
FUL
NIVO T
JOEL P
CYSOUL
LESLINE
KAMENI
NEXT RATED ACT
VIVID
JANEA
MBEKOOL
CLEO GRAE
AVEIRO DJESS
VERNYUY TINA
This ceremony will have performing artists as listed below.
PERFORMING ARTISTS
WAX DEY
SAMA NDANGA
WAN SHEY
POKER
MELCUBE
ANKIA
FRANK BEBE
NAMBU
ZEE JM
DJ DERTSMAN