Rappers seem to be the head honchos this end of the year. We have been able to savor an album from Mc Neillex, Blueprint Hakeem and now the mayor of punchline district serves us with Vibes Clinic under the canopy of Kwata Music. Mic Monsta is popularly known for his pun, metaphors, imagery, allusions, and similes. It is difficult to talk about rap in Kamer without mentioning the Kwata Pikin. Mic Monsta Vibes Clinic is " a journey to self-discovery, healing, and growth while exploring the new Cameroonian sound and telling stories that connect our community to my everyday reality and lifestyle."
Vibes Clinic is a 12 track project with a series of collabos with mainstream and uprising artists ( Spido, Salatiel, Mr. Leo, Arre, Dready Christ, Slim Kid, Ketidy and Orji). Suspense sets in immediately when one looks at the list of artists that feature on this project. The rapper also blends this project by working with a plethora of producers ( King Gunz, Dijay Karl, Ralf Instrumental, Gauis, Boy Karl, Payne) with most of the songs mixed and mastered by Dijay Karl.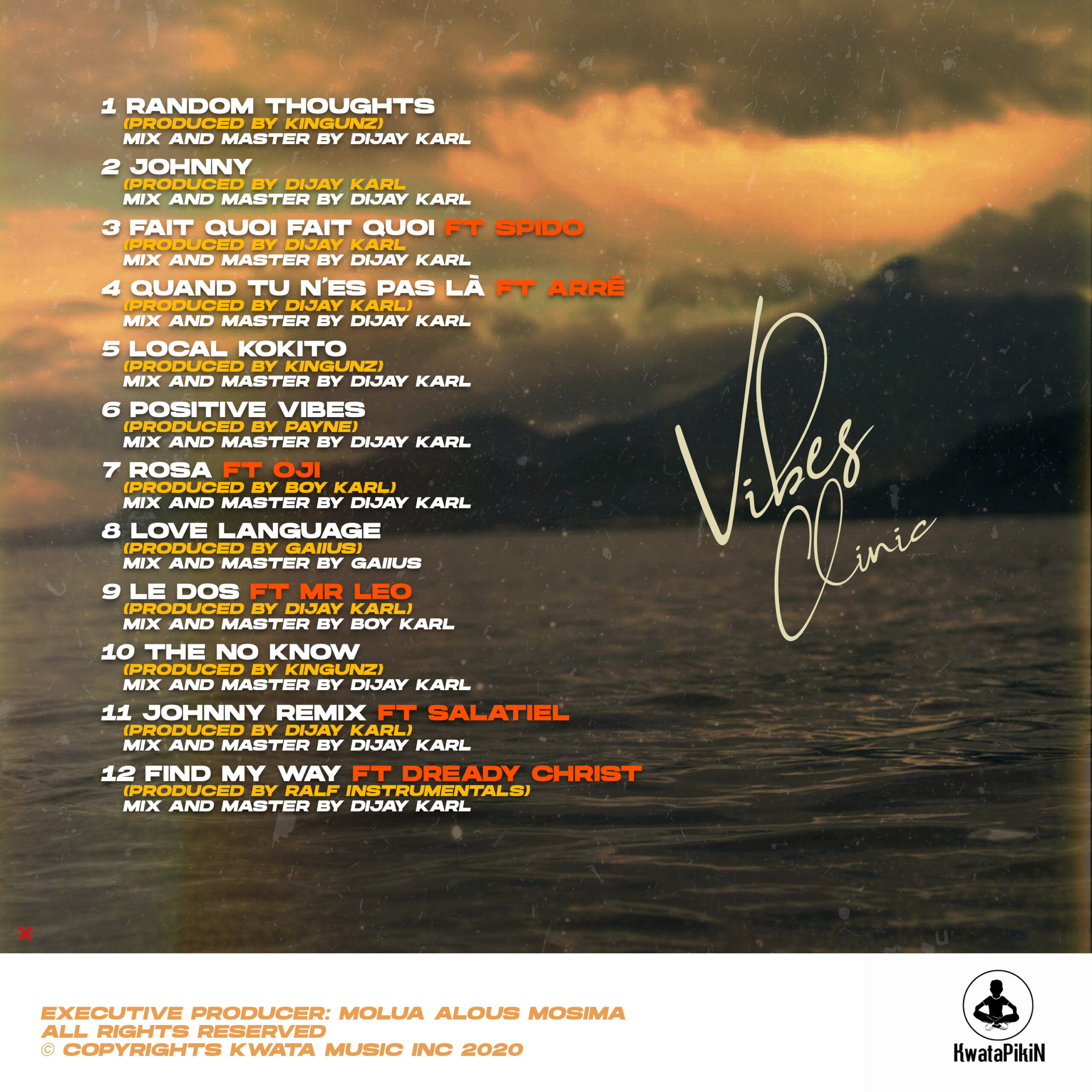 The themes handled in this project are; Hardwork, Dreams, Determination, Love, gratefulness, positiveness, Dilemma, etc. The project has a creole of languages plus a mixture of sounds (Hip-hop, Afrobeat, Fuse of Makossa, dancehall, the fuse of Reggae) which makes it possible for every lover of music get a run for their money. In other to accompany the project, the rapper dropped the visuals of the intro song Random Thoughts 3
Watch:
What to expect from the album VIBES CLINICS;
RANDOM THOUGHTS                                                                                                    The album opens with  Random Thoughts, an all hip-hop vibe heavy with bars prolifically delivered by Mic Monsta as he briefly takes us on a ride through his musical journey so far.
Johnny                                                                                                                        Track 2 follows up with Johnny, a soul-touching piece about young hustlers leaving home for greener pastures. Johnny is everybody irrespective of your background, race, or nationality. Learning how to survive in a new city because of the ongoing crisis in Cameroon had referred to himself as Johnny just come.
Fait Quoi fait quoi ft Spido                                                                                            New in Douala which is dominated by the French language Mic Monsta tells himself he must make it "Fait quoi fait quoi" thé songs which is a blend of Dance hall and Makossa features Don Kwata Ledgend and hip hop veteran Spido.
Quand tu n'est pas là ft Arré                                                                                      Quand tu n'est pas là is a love piece and Mic tactfully expresses his admiration for a lady in his Kwata tongues. The mid-tempo dance hall vibe is a serenading piece that features Arré with Smooth vocal delivery on the hook and second verse.
LOCAL LOKITO                                                                                                            Answering the call of nostalgia & in bid to bridge the gap between the new-school sound & Makossa (which is  the leading sound of the older generation) gave birth to 'Local Lokito' a Nkotti Francois sample and the song actually inspires a nostalgic surge of adrenaline rush in it's listeners; once again leaving them basking in the reminiscent feelings of the good old days.
POSITIVE VIBES                                                                                                          Positive Vibes is another soul touching piece. The dance-hall vibe is a guide for hustlers to find balance & a positive perspective in their everyday lives & challenges. With the crazy things happening in the world right now, every single day is a gift from God. Being grateful and staying positive will only attract more good vibes your way. "I have just one life so I choose to be happy."
Rosa ft OJI                                                                                                                  Guilty pleasure. Enjoy the dance all grove.
Love language ft Slim Kid                                                                                        This one is the dilemma about finding a balance between career & love-life. With Njoku lyrically cajoling the ladies, as usual, tagging along with the young Slim Kid with exceptional vocals on the hook that'll just leave the ladies falling in love. One is loved because one is loved, no reason is needed for loving.  Le dohs ft Mr. Leo
Le dohs                                                                                                                        Is a musical celebration of success that features Mr. Leo with the classic vocal prowess nothing short of a big jam. It's a blend of Afro-beats and hip hop. That legendary Dijay Karl production will keep you dancing none stop.
Dey no Know                                                                                                                Dey no know is a mellow vibe infused with a pinch of Reggae and it features the golden voice Ketidy. Believe in yourself and the choices you make, for it all adds up in the end. Every challenge is shaping you for who you are meant to become.
Johnny (Remix) features Salatiel                                                                               A legend of our time, who has beyond reasonable doubt fought for the growth of many Cameroonian artists and the music industry in general. "Johnny Na Hero".
Find my way ft Dready Christ                                                                                      Remember wherever your heart is, there you will find your treasure. I hope you find your way.
Do you think hip hop is in safe hands with Vibes Clinic?
Grab a copy via the link below;