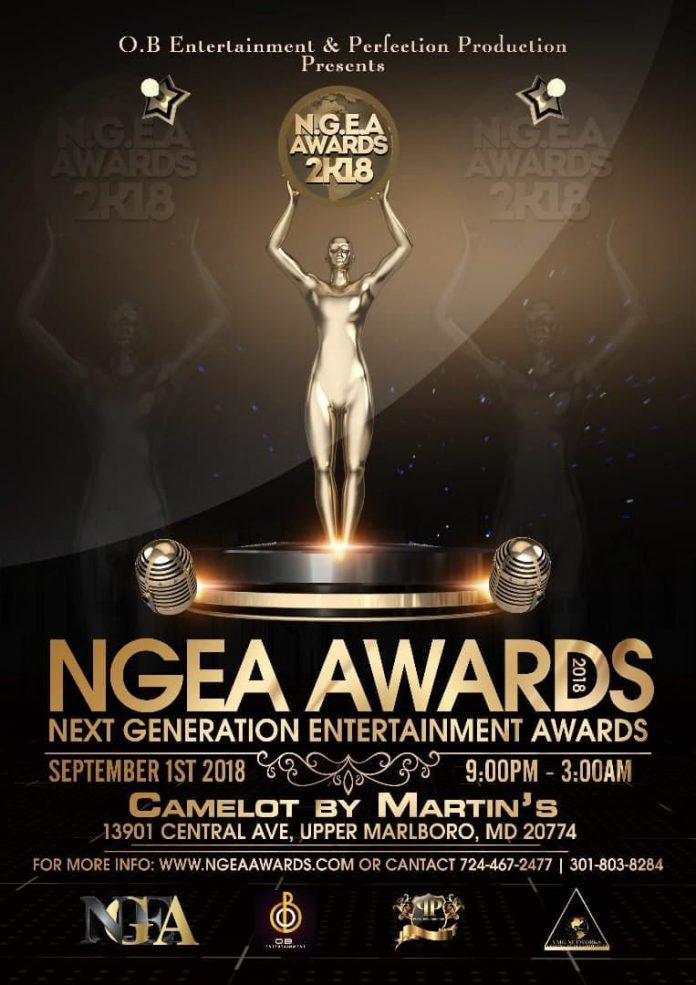 The NEXT GENERATION ENTERTAINMENT AWARDS (NGEA) is an annual classical event that celebrates rising superstars, multi-talents and the amazing creative works of individuals and groups in the global entertainment industry. Founded and run under the canopy of two international companies; OB Entertainment & Perfect Production, NGEA is fast becoming one of Africa's most credible awarding body recognizing and celebrating icons all fields of Entertainment.
It is a prestigious platform where the next generation celebrities are highly recognized by hundreds of millions of entertainment lovers around the world for their immeasurable contributions in the following fields; music, film/tv, stand-up comedy, script/creative writing, sports, event management, dance, etc. The awards generally focuses on Africans around the world.
The third edition of NGEA is scheduled to take place on September 1st 2018 from 9pm to 3am at Camelot by Martin's 13901 Central Avenue Upper Marlboro, Maryland 20774. Come prepared for a lifetime experience; glamour, red carpet, guest performances, awards etc.
RESERVE YOUR TABLES🔵,
GET YOUR TICKETS⭕
🔵@ www.ngeawards.com
Or call Or text us @ 724 4672477 3018038284.
To vote for your favorite nominees, CLICK HERE