The game is far from over. Popular millionaire Socialite Coco Emilia aka Biscuit de Mer attacks the MRC candidate Maurice Kamto and all his team.
The fashionista who is also known as the Kim Kardashian of Cameroon reaffirms his support for Paul Biya by blasting his main opponent Maurice Kamto.
On Her official Facebook page, she posted this message for detractors
Below is A Screenshot of her Facebook Post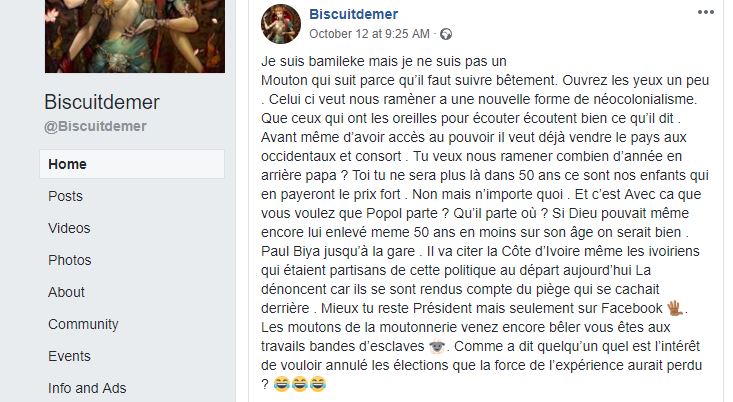 I'm Bamileke but I'm not a sheep that follows because we must follow stupidly. Open your eyes a little. This one wants to take us back to a new form of neocolonialism. Let those who have ears to listen listen well to what he says. Even before he has access to power, he wants to sell the country to Westerners and consort.

You want to bring us back how many years back dad? You will not be here in 50 years, our children will pay the price. No, but anything. And that's what you want Popol to go with? Where does he go? If God could even take him even 50 years off his age we would be fine. At the beginning today denounce it because they realized the trap which was hidden behind. Better you remain President on Facebook. The sheep still bleat you as working slaves bands. As someone said what is the point of wanting to cancel the elections that the force of experience would have lost? ".