Trap is a subgenre of hip hop music that originated in the Southern United States during the early 1990s. The genre gets its name from the Atlanta slang word "trap," which refers to a place in which drugs are sold illegally. Trap music uses synthesized drums and is characterized by complicated hi-hat patterns, tuned kick drums with a long decay (originally from the Roland TR-808 drum machine), atmospheric synths, and lyrical content that often focuses on drug use and urban violence.  It utilizes very few instruments and focuses almost exclusively on snare drums and double- or triple-timed hi-hats. Pioneers of the genre include producers Kurtis Mantronik, Mannie Fresh, Shawty Redd, Zaytoven, and Toomp, along with rappers Young Jeezy, Drama, Gucci Mane, and T.I. (who coined the term with his 2003 album Trap Muzik). However, the modern trap sound was popularized by producer Lex Luger, who produced the influential Waka Flocka Flame album Flockaveli in 2010, and cofounded the prolific hip-hop production team 808 Mafia.
Makizar is a Cameroonian artist based in South Africa. The rapper is known as the only rapper that has been able to speak bluntly to Jovi unapologetically. The rapper who auto proclaimed himself Pidgin Trap God just released a new album titled Pidgin Trap 101. The title suggests that the rapper will be giving a lesson for beginners in Pidgin Trap Music. Pidgin Trap 101 is a thirteen track project plus a collabo with (Yung Swiss, Stilo Magolide, K. Sei, Payseen, Joelle Xo, Emtee). Most of the songs are produced, mixed, and mastered by Dj Megi, Dirty Kix and Mister J. Track 5 is produced by Yung Swiss and track 7 by Fyko.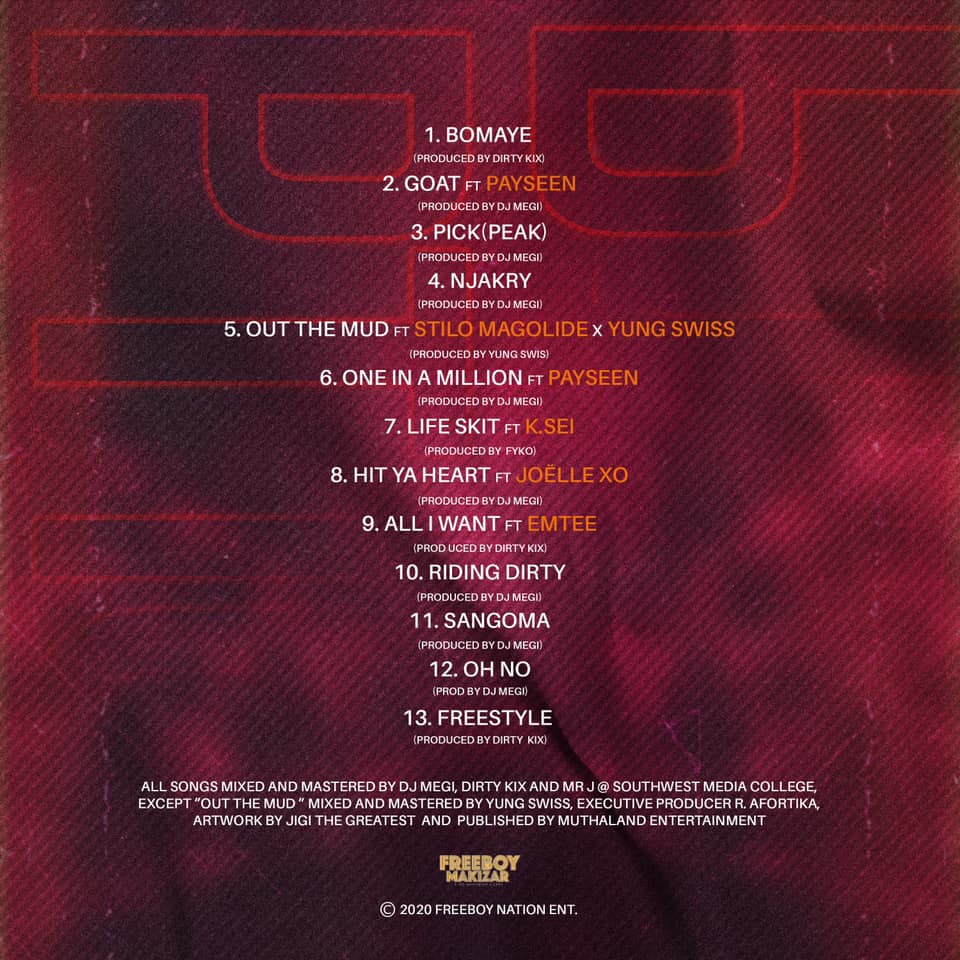 Arts is not gotten out of a vacuum but from the experience and context of the artiste which affects his content and form. The album opens with Bomaye which is an introduction of the artiste, who Makizar is, and what he does. Ego trip is one thing one will notice in this project as the artiste presents his ego, determination, and hard work. In track two and six, we see the guts of the artiste as he goes hard at the Mboko God Jovi. He doesn't only battle the rapper but also gives him lectures on who a leader should be. In track 7 he gets the stones shot at him by the fans and puts it in a song titled Hit your heart. In this song, the artist hits hard on those coming at him for being a clout chaser because be is bold enough to speak out. He emphasizes on the fact that he doesn't condole with disrespect and he is ready to face anybody.
Trap Music lyrical content often focuses on drug use & urban violence and this can be reflected in Pidgin Trap 101. The form of the album is made up of Allusion, simile, and metaphors, etc. This project is an amazing project to go through but there are also some Shortcomings;
As an artiste the question is "how do you want to be remembered?" and we wrote an article on this. Going through the project one will notice a lot of violence being promoted. Also, we find the artiste celebrating success in the illicit act of scamming while making a mockery of their victims (Track 3). Drugs are dangerous, illegal in Cameroon, and shouldn't be promoted cuz of its damage on the youths but yet we find the artiste taking pleasure in it.
After listening to this project do you think Makizar deserves the title Pidgin Trap God?
Stream and Download Makizar – Pidgin Trap 101 below;