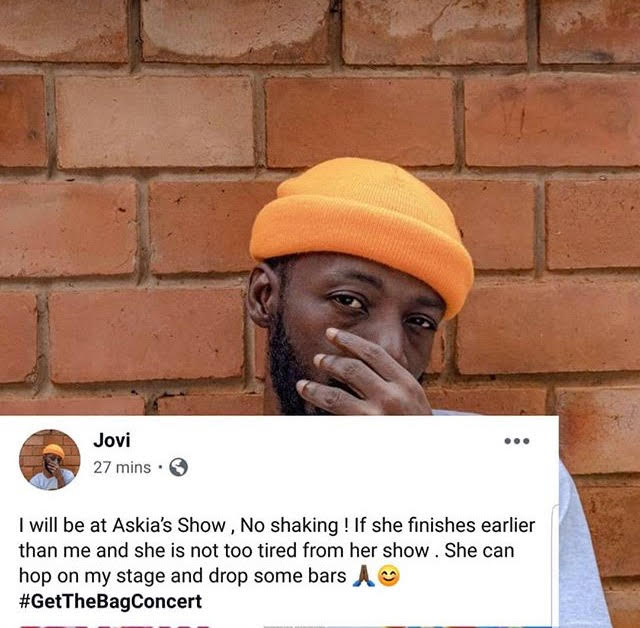 I am among those who totally abhor the "support your own" mantra, every time I hear it I get bouts of nausea. That is simply because a lot of persons have taken the thing as an avenue to come and exploit the everyday man.
If we know one thing about Cameroonians it will be that we aren't supportive people. We are smart and a lot of other things be we aren't very supportive but added to that in the insincerity of a lot of people among us and so I have never agreed with the support your own thing but conversely,  I agree with supporting value. In fact, the value doesn't need support, value propagates itself especially the type that is selfless and well-intended.
And Jovi just proved that! After several people started raising questions about how The All-Girl Edition of the Discovery Show and the Douala Art Festival will clash and some people hurried to pit Jovi against Askia because they're both performing on the same day. Jovi squashed the rumour of bad blood between them by announcing yesterday that he will be for Askia's concert and if she isn't too tired he will like her to be on his too. This is the kind of support that makes sense.
The Discovery Show All Girls Edition and dubbed "Get The Bag Concert" stemmed from a great initiative by Askia who went out of her way to collaborate with several female artistes in Cameroon on her "Bag Series". The value created in terms of networking, bonding among female artistes and overall entertainment and Jovi has seen this. Hence his support for it and everyone should be on it too.
If you can't support your own, which is ok, support value.
Rendezvous at
Lycee Bilingue Bonaberi
, the tickets are available online at 
www.artchitect.xyz
 and also on
Muzee Digital
, you shouldn't miss!