If You Could Get up the Courage to Begin, You Have the courage to succeed. Cameroon Soccer Icon Samuel Eto'o shows his support to Tenor by confirming that he will be part of the thousands of fans who will come to watch him perform at 'Palais Des Sports' in Yaounde on the 18th of August 2018. Since Fally Ipupa's Mega Concert last Saturday at this prestigious sports arena in Yaounde, Tenor took upon himself a challenge to fill up the complex.
It's a movement that is been initiated by Tenor but other home-based artists like Maahlox have also taken up the Challenge. Maahlox even went as far as putting his own date close, the 16th of June 2018. Rapper Jovi is already showing support to Maahlox by sharing his official poster.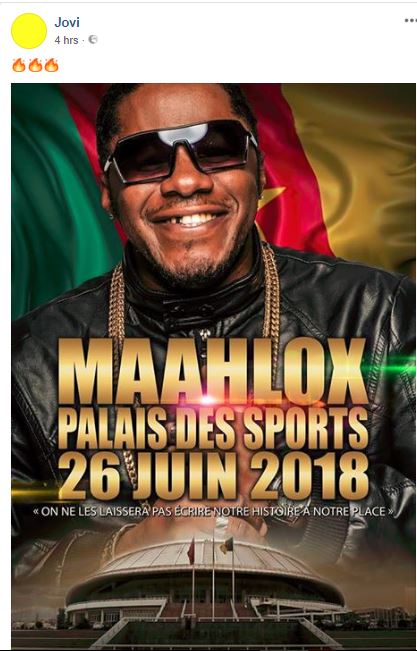 The question now is – Is it Possible? Yes, of course, it is very very very possible Tenor has transformed into an African Rap Phenomenon. The 20-year-old rapper has proved countless of times why he deserves to be crowned one of the kings of Cameroon Hip Hop.
He is one of the best that can blow up a mic with his freestyles
He is an award-winning artist
With only one album (not even an album but an E.P), which was released just less than 48 hours ago out Tenor has managed to gather a huge cult following in Cameroon. Breaking records as the first every Cameroonian home-based artist to sign with Universal Music
He collaborates with A-list home and international stars like Kiff No Beat and Dj Arafat.
The Kids love Tenor. when you've won the hearts of the youth you've basically won the heart of the entire nation. The kids love Tenor and it's clear by the way they love dancing to his music. Tenor has empowered the youth by making them realize that their dreams are within arms reach.
His music Videos are quite fresh and off the hook. Do we really need to talk more on this, in short check out tenor's Bad things video and review yourself?
Le Fiang Le Way Le Yamo
Not that Tenor recently released his debut EP titled  – Nomm Ngui – and his video LVMH has already more than 60.000 Youtube Views.
READ HERE
MESSAGE OF THE DAY: Lets Support Our OWN