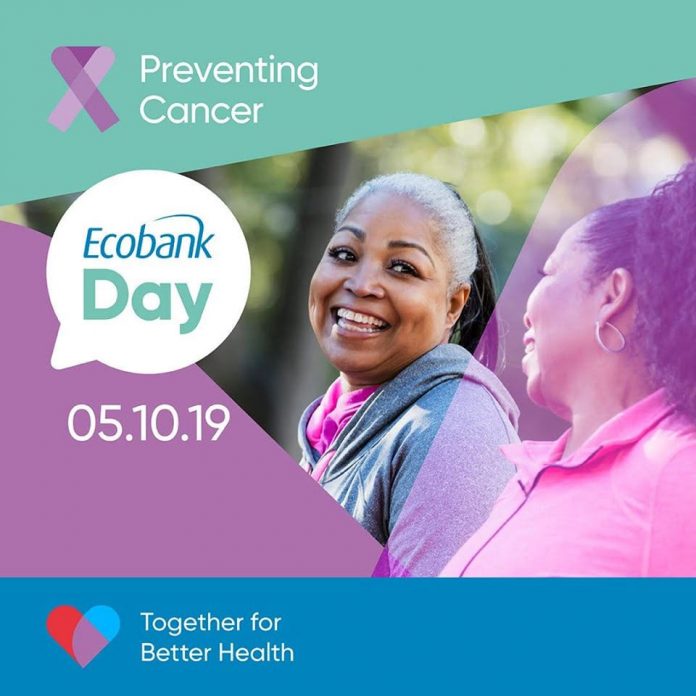 Ecobank Day is a day set aside to showcase our Pan-Africa values as a credible corporate institution. We do this through vast community social activities that create awareness and contribute to the advancement of a key social need. This activity takes place simultaneously in all the 33 countries in which we are currently operating on the same day, demonstrating how important as a Group we value our communities.
What are the objectives of Ecobank through this program?
First of all, the main objective is to show that we value everyone in the community in which we operate and to thank them for their confidence in our pan-African agenda. Every year we chose an area of need and engage effective targeted social actions for the sole purpose of impacting these communities. And this year, the area of focus in the fight against Non-communicable diseases (NCD) with particular attention on the fight against CANCER.
2. Why did Ecobank choose to support the fight against Non-Communicable Diseases (NCDs) during this year's Ecobank day celebration?
As a Pan African bank, operating in 33 African countries, our responsibility extends to improving the livelihood of the communities in which we operate and health is front and center in this objective. In previous years, we had focused on educating children; maternal death reduction, orphans and portable water for all. Through feedback and research were done on major health factors affecting our communities in Africa, NCDs often described as silent killers destroy the lives of thousands of men, women, and children in Africa yearly. NCD's which include diseases such as heart attacks, cardiovascular diseases, cancers, diabetes, and mental health is already the leading cause of death worldwide, representing 71% of the world's 56 million deaths. They are growing rapidly in Africa, and we decided to add our voice, participation, and contribution to sensitizing our community as well as offer free screening as the first step in our 3-year plan.
We are also not immune to the impact of these diseases, nor are the members of the communities in which we work. We consider Africa's population to be our greatest asset and NCD is a major factor leading to premature death, ultimately limiting Africa's potential. As a pan-African bank, there is no better cause to support than ensuring a healthy community in which to do business.
3. What would you want the population of Cameroon to remember from this week-long activity and from the WALK of today?
The importance of working together to improve the health of our community through sensitization and investments in health facilities to prevent and manage NCD. This would be a major milestone in building a strong and healthy Cameroon and thus guarantee the future of Africa.

Together for better health.