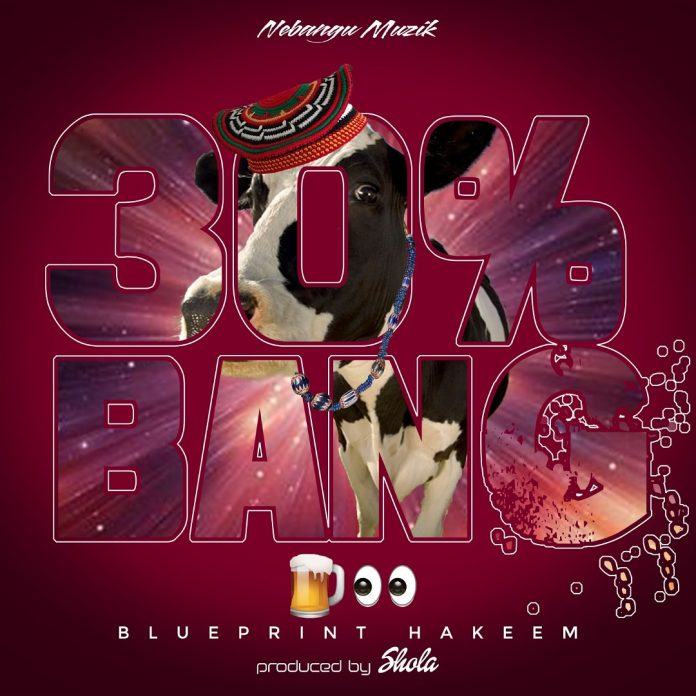 Real African Hip Hop artists are Challenging their peers and Here is a new one from one of Cameroon's most sophisticated lyricist – The Blueprint Hakeem.  He entitled This – 30%/Bang/The Dialogue (Africa's Best Rapper). Produced by Shola.
With only 30% of his rap skill potentials, Blueprint Hakeem tells Cameroon and Africa in general when it comes to bars, metaphors, and flexibility, the Cameroonian rapper with the voice of an explosion got it all in one body. This is the DIALOGUE PHASE. The BATTLE OR LION PHASE steps onboard next week. #BANG🇨🇲 Check out the lyrics below
LYRICS:
Cheyeaahh aihhh.
Ngomgham bwaii Cheeyeahh
Ma flow rude like a girl with a small breast.
I bring panic like an arab with a bomb vest.
You bringing gunz to make it bang on a drum set.
Ma word play comes with a pen. This is congress.
Ladies and gentlemen this a dialogue nationalé.
COW dong cam. Goats sit down. Comprehendré.
I'm a wolf intertwined in a sheeps body.
I carry cameroon fo back while ma dick is
standing.
Ohboy i no d stress when i d do this shit.
Ma record is bogos i aint talking nkolo ya mo shit.
When u press play. I take ya head go.
Ma verse dey lek game. Play ya money loss. Njambo.
Goat d chew grass. Me I chew grass? I go with the better one.
I chew lass.
So ma mouth juicy.
Green red yellow. Who the little twinkle star standing in the middle.
That's me! I'm like a facebook post with the fewer likes.
So you should pay attention. I can change ya life.
Ma IQ high like a gold digger. So baby what's ya favourite color?
Orange money niggaaaaa… Blueprint Hakeem is the London.
And all u other rappers are bridges that are falling down.
Ma metaphors pain like an onion.
Dont worry if u cry, I got  a towel, I can wipe you down.
Ya careers are not shaking like man wey NEPA current shockam?
U dont get it.
Do u!
Ya careers are not shaking like man wey NEPA current shockam!
Get it? Now you get it dontcha?
Blueprint Hakeem i set the bar so high. E dey fo up. I lek giraffe ye kanas…
kanas Any african rappers who try to get at us or me…
Uhhhh u go lose ya balance.
I'm equivalent to the mystery of sending thunder.
It's a landslide when ma bars quit the bunker.
U can study me from up way down to under.
I still stay complicated. like a crime mobster.
So who's the best rappers on this mother Africas face after me?
Check..
I take it slow.
Cus I'm the COW.
You can have the goats.
See There's only one Naija.
Only 1 S.A. 2 in Ghana could stand with me on their best day.
And coming back to Cameroon na only one woman.
Take off the 'W' and 'O'… Oh ma god you so confused.
I'm michael jackson with the track.
I break the moves. I'm moses with the stick.
I bend the rules.
I sting like a viper.
Their body catching the wounds.
Too much wisdom in ma head like I'm paul Biya.
I'm too big fo ya dailogue. I'm a godzilla.
I'm Blueprint Hakeem ngomgham bwaii And any other rapper(s) on the list is ma damn toy. Cheeyeaaaa aihhh Ngomgham bwaii