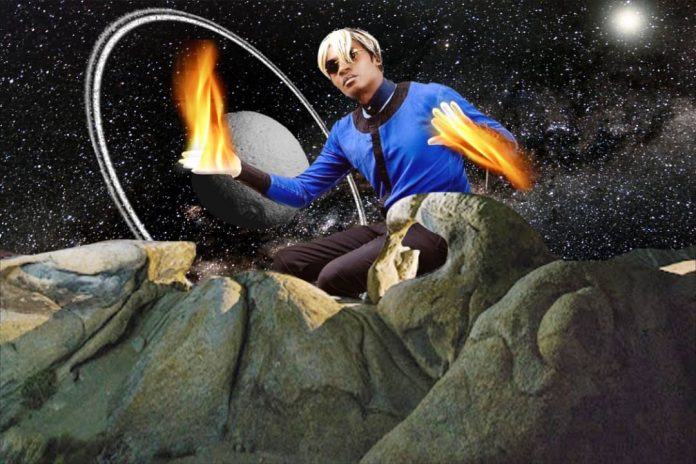 Seemingly out of nowhere here is an experimental body of work with infusions of Soul, traditional African music, as well as alternative beats coupled with spoken words.
Lionel Light delivers a typical Camer 90s music video for the unique sound.
Watch the music video below!
The birth of Bridge Star Music by Lionel Light
Once upon a time, a star rose above a lost hamlet in the highlands of Northwest Cameroon. If it had been a shooting star, it would have been talked about long ago. Except that it resigned itself to persisting in infinite brilliance, to tirelessly roaming the vault of space in search of a quiet corner from which it would illuminate many lives. Has this quiet corner been found and finally convinced that it offers matter to accomplish an exceptional destiny? One of those that this Africa in miniature knows how to offer to the world. One more, one to give the music of the mboa other letters of nobility, that of the birth of the Bridge Star Music.
It's easy to understand this assertion, which gives full weight to a musical work that comes in the wake of so many others that adorn the national cultural landscape. "If Cameroon wasn't Africa in miniature, you'd never find one of its sons who combines all the music of the world. In a word, this is the quintessential Bridge Star Music, a work by Lionel Light. A tasty combination of great melodic sounds of the world, like a bridge that links all the disparities that give meaning to such plural existences, like this glow that crosses so many lands to distill beauty.
Who is Lionel Light
Lionel Light's atypical journey is not a fairy tale, however, if we were to stick to the ordinary vicissitudes that have enameled his life since that day on Thursday 14 September 1982 at 3 p.m. when he was born in Wum, a small town in the north-west of Cameroon. As he made his winding road to adulthood, the young EFANG Lionel (his name at the registry office), offered himself a choice between art (architecture especially) and a professional career in the army. Music, which was not so much part of his passions, would eventually join him towards the fulfillment of his crazy dreams of serving his nation.
He will then join the great mute from 2004 until 2012. During this year 2012, at the end of a training course in at the Civil School for Engineering, Lionel braved the obstacles and obtained the Brevet Technique number 2 (BT2), at the same time as he underwent an Inter-Army (IA) internship. In the aftermath, he was granted the privilege of carrying out architectural works, including the very first monument of the training center (CI) of DJoum, as well as that of the CIFAN of Ngaouadere. It didn't take much for the life of the young soldier prodigy to sink into the darkness of a serious illness, which will cause him to lose his sight almost completely in 2015. As he struggled to cover it, at least in part, thanks to the intensive care that will be administered to him, it is then that in this enveloping darkness, the light will shine forth.
In this colorless darkness, as if caught up in the darkness of evil, in the darkness of his eyes, he sees a mental light, a set of magnificent sounds, a combination of all earthly sounds. He gives this phonic mixture a name: Bridge Star Music. We are in the first light of the year 2020. From this fabulous experience comes the creation of his Bridge Star Music concept, which can be summed up as a bond of equality between heaven and earth, rich and poor, darkness, and light. With the aim of propelling his concept forward, he set about writing 22 songs, the first of which is the one that enshrines him, bearing the eponymous title, Bridge Star Music.
While waiting to decline us entirely the 22 tracks, Lionel Light intends to transport us gradually in his fairy universe, at the same time by the musical work and by a video clip which emphasizes his fantastic ride in the middle of stars, above clouds in any case, like this dazzling light which exudes itself by a phantasmagorical eruption, to go to live up there. The director of this breathtaking work of special effects and brilliance, Cédric NOTUE, wonderfully translates the quintessential Bridge Star Music into a juxtaposition of sound and images, which gives depth to suave melodies, among which a thin, uncertain, but painfully tasty voice happily wanders.
There is no doubt that culture lovers will be served by this sumptuous display, which exalts Cameroon's rich cultural heritage, where dances, rituals, and material aggregates mingle, including this subliminal allusion to the Kounga dance so dear to the Grassfield region and which serves as a connecting link between peoples that colonial outrage has never succeeded in separating. So give yourself the trouble of discovery, make room for the Bridge Star Music.