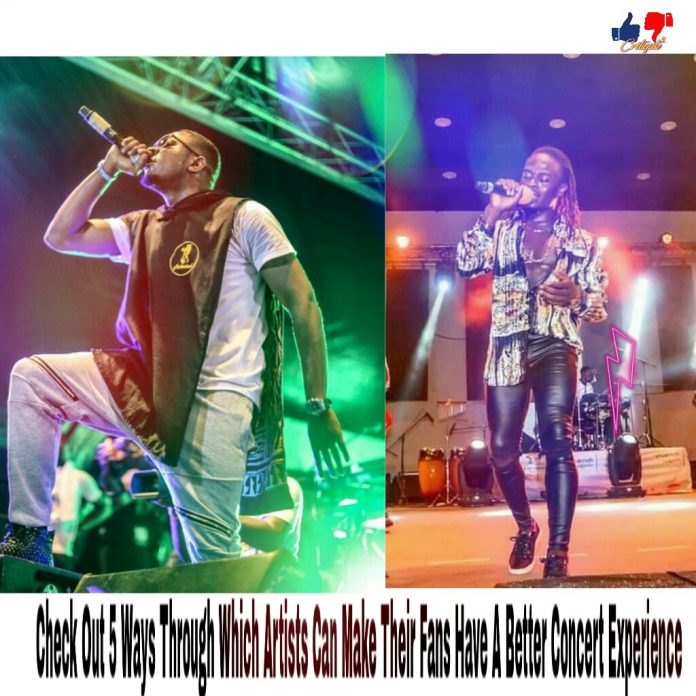 Concerts are held all the time by artists organized by so many important personalities, we suggest five ways artists can actually make their concerts more positively memorable and not a trending topic on social media for all the wrong reasons.
Truly go out there and perform
A good number of A list artists with good music count so much on their songs that they actually fail to give their best when they come on stage. Hearing the crowd sing along to your song is a dream come true for many artists but hearing you actually sing to them live is the reason why we have concerts in the first place
I saw a live performance of Stanley Enow take to the stage and he didn't even have to perform that much his fans sang immediately he went on stage, despite this, Stanley Enow had to start all over again and this time he sang and performed the song for the fans. A concert provides a great ground to surprise the crowd by showing off an instrument they didn't know you could play before, or doing covers of popular songs, those are the moments that truly add up to make a concert special and memorable.
Find a good venue
. A big venue does not always translate to a good venue. Ideal concert venues that I have found intriguing are Canal Olympia Douala and Paposy Yaounde mainly because of their visual experiences fans enjoy.
The stage is very important since everyone attending will love to be actively involved. Thus verify if some sections are cut off from the fun, is it a hall that allows for full participation even with tables or it is one that favors a standing crowd only?
.
Organization 
Many artists are usually ambitious with what they plan to deliver to their fans at their various concerts, but very few are committed to put in the work to make the execution right.
With organization, clear objectives should also be set out on what the concert aims to deliver from the beginning till the end. There should not be room for many periods of inactivity or total silence on stage during the event. Performing artists should be well structured, with duration of their sets stated and committed to way before the event.
Timing 
At times, shows are delayed simply because the fans themselves have the notion of  'African Time' so they  turn up late and no artist wants to perform before a half-empty hall. At times, it is down to the "VIPs" who have paid for tables or sponsored and organizers deem it fit to wait for them before anything proper happens.
But all said, there is no way a show advertised for 8:00 pm should be starting as late as 12:00 am or even 1:00am, as the case is fast becoming the norm with top Cameroonian concerts. The longer the people have to wait, the more their energy level falls. This is bad for a concert atmosphere.
.
Line-up of artists
Now, this is another major one. The lineup of performing artists is not one that should be left till the day of the concert
Often, artists forget that when they are to headline a concert, the fans are expecting you to feed them with many songs within a limited time frame. Thus C and B list artists should come first with limited time so as to give A list artists sufficient time to charge up the concert atmosphere.