"At what point did I try to kiss you, as ugly and skinny as you are"
These rude words said yesterday by Erica to Laycon has caused her eviction this night from the BBNAIJA's mansion.

Erica evicted from Big Brother Naija 2020
Ngozi "Erica" Nlewedim (26) is an actress and commercial model from London, England. Erica is the name she goes by and she returned to Lagos after studying screen acting at the Met Film School in London. She was one of the favourite contestant of #BBNaijaLockdown2020, but got herself involved in so many controversies.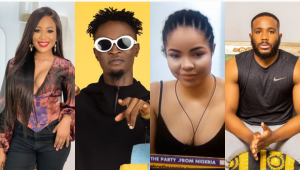 The last issue which caused her eviction, started when Erica got angry with Kiddwaya during Saturday party because he danced with Nengi. But Nengi clarified Erica's doubts by denying being interested in Kiddwaya. So Kidd, Erica, Ozo and Nengi had a private talk in other to  settle that matter before the party ended. She then  faced Laycon in such a direspectful and rude manner, asking him to tell her when she tried to kiss him, except when she was drunk. Erica used bodyshaming and insults like "ugly",  "mopstick", and be like "drumstick", "death".
 She even got angry  with Kidd and Prince just because they stayed impartial during the fight, till she poured water on Prince and drove him out of the bed say as Deputy Head house, they cannot sleep on the same bed.
Watch the fight here 👇