The Cameroon Patriotic Diaspora (CPD) informs the national, international Sports organizations and esp. the President of The Confederation of African Football (CAF) concerns about the 2019 African Cup of Nations and insist it may be held in a divided and unstable Cameroon.
The CPD warned Mr. AHMAD (President of CAF) that CAF's stubborn determination to organize CAN 2019 in Cameroon could seriously jeopardize the safety of the participating teams, their coaches and their supporters, because of the persistence of the so-called "Anglophone crisis" which has been evolving for more than a year into an open war between the Cameroon Armed Forces and secessionist groups in the north-west and south-west regions of the country, causing numerous deaths daily among the civilian populations.
In the mentioned letter below, CPD reminded the President of CAF, for all the lessons learned, of the attack perpetrated by the Cabinda Enclave Liberation Front (FLEC), on January 8, 2010, against the team. National of Togo during the CAN 2010 in Angola. This incident made one dead and several wounded in the Togolese delegation. The CAN became a nightmare that traumatized teams participating in the event! In Cameroon, in a context that is even more volatile and uncontrollable than Angola's in 2010, the risk to participants may be even greater.
CPD also informs the President AHMAD that Cameroonians applauded CAF's decision to award the organization of CAN 2019 to Cameroon but the blood of their Anglophone Brothers runs daily in a stupid war that requires a simple but sincere Dialogue to resolve the issue.
The Executive Board of CPD hopes that CAF and its President will pay the utmost attention to these urgent and vital concerns.  BELOW IS THE OFFICIAL PRESS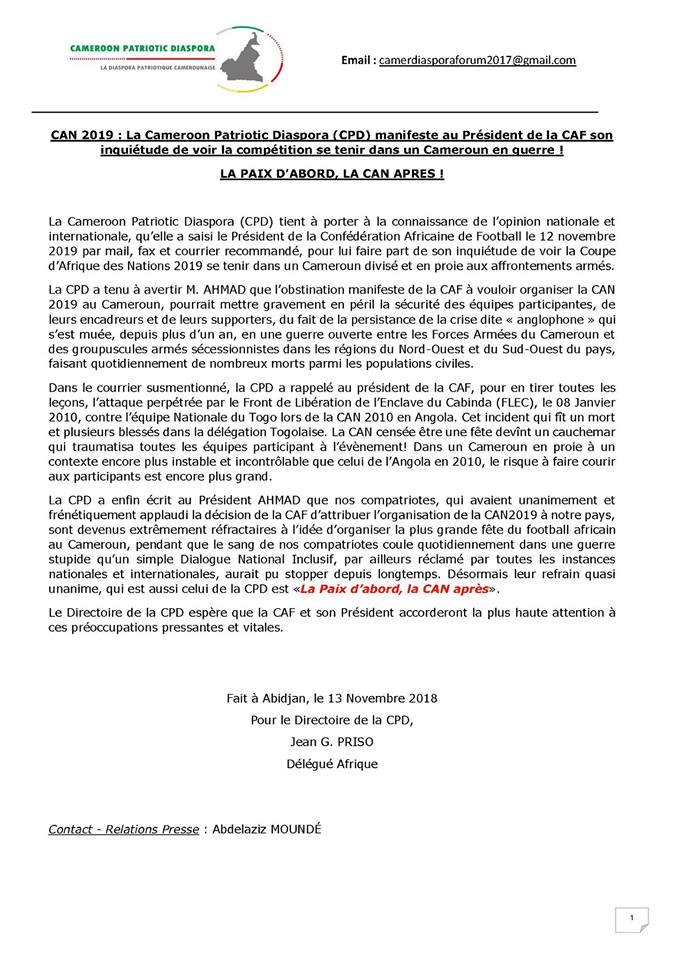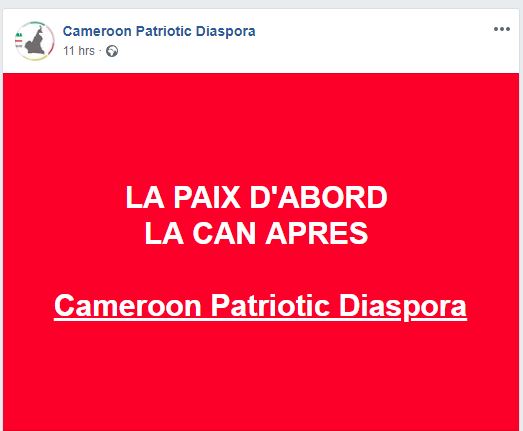 DO YOU AGREE
SOURCE: CPD