Since the last election campaign that led Cameroonians to the polls on October 7th, actions have been taken in the Diaspora by a group of people determined to make the international atmosphere unlivable to any public person who has openly supported the campaign of the incumbent candidate. CPDM, His Excellency Paul Biya. 
Between the people targeted, includes traditional leaders and a long list of musicians, now tagged sardine musicians. These are the ones who had participated in a mega concert held at the Palace de Sports in Yaoundé Sports in the last week of the campaign; concert dedicated to supporting the CPDM candidate's campaign.
Thus, in recent days, we have read on social networks messages like: 
"Any diaspora show promoter who still programs SARDINARDS artists will be boycotted until its bankruptcy." 
"The diaspora must no longer finance the economy of INGRATES and SARDINARDS". 
This is not the first time we hear such decisions from an African diaspora community stand up against their musicians, you would have heard about Congolese fighters (DRC) boycotting for several years local musicians who have supported publically the scheme in place. 
When will Anglophones prepare a comprehensive list of their own?
Below, the list of Cameroonian musicians who would be targeted by these actions.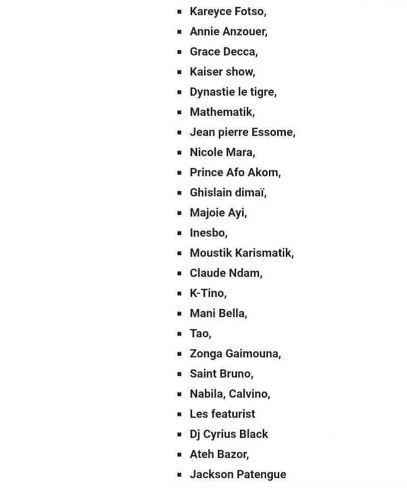 The above musicians have been added to the list of people that according to Francophones must be chased out of Europe and North America anytime they step their foot there. They say these are the musicians that have been patronizing Paul Biya and encouraging him. They are preparing another list of businesses and businessmen that should be boycotted and included in their "chassement".
When will Anglophones prepare a comprehensive list of their own?
SOURCES: Sam Morbit, 237Actu, Camerounweb