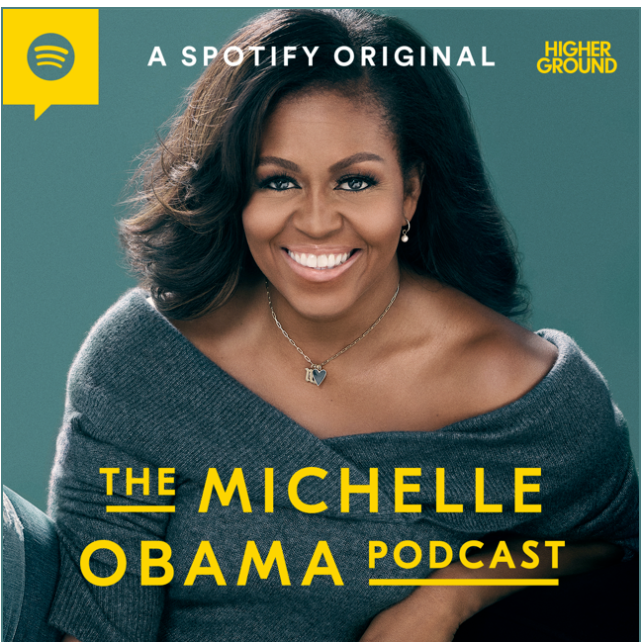 On July 29. Michelle ROBINSON OBAMA, lawyer, attorney author, and United States' former first lady, debuted a talk-show called "THE MICHELLE OBAMA PODCAST".
It's a collaboration between Spotify and higher ground, the production company founded by the Obamas, and focuses on relationship and health issues, with a series of candid conversations between OBAMA and a variety of guests. The aim as she said is, "to talk about relationships that made us who we are. The challenges of being a parent and a spouse. The friendship that helps us through the time or the growth with experience when we lean on our colleagues and mentors around us". She's trying to free the feminine gender from complexes. Indeed, in the latest episode of her new podcast where she invited SHARON MALON, a long time friend and WASHINGTON DC-based obstetrician and gynecologist, she made a point of breaking taboos about women's health talking about going through menopause in the workplace, weight, aging, and image. Today at 56years old, Michelle did not hesitate to share her first hot flash experience with her guest and listeners:"
"It was like somebody put a furnace in my core" she remembered, "and the thing started melting and I thought 'well this is crazy, I can't, I can't do this'". 
This happened when she was with her husband in a Marine one presidential helicopter, before an official event. According to Michelle Obama, women of a certain age lost their value in society, unlike men, who gain in value the older they get, and it's shocking to see those images where frumpy, funny old guy hanging out with young vivacious girls (…), propagated on television.
We still remember that famous tweet in which Southside Chicago's lady admitted being depressed in these words:  "I know that am dealing with some form of low-grade depression. Not just because of the quarantine, but because of the racial strife, and just seeing this administration watching the hypocrisy of it, day out is dispiriting".So this PODCAST talk can also be a therapy for the so much loved former first lady.
DOWNLOAD THE MICHELLE OBAMA TRANSCRIPT here 👇👇👇
👉PRESIDENT OBAMA  (With BARACK OBAMA)
https://storage.googleapis.com/pr-newsroom-wp/1/2020/07/MO-Podcast-Transcript-_Episode-1_FINAL.pdf
👉PROTESTS AND THE PANDEMIC
https://storage.googleapis.com/pr-newsroom-wp/1/2020/08/TMOP-Transcript_Episode-2.pdfJ
👉WHAT YOUR MOTHER NEVER TOLD  YOU ABOUT HEALTH  ( with Dr SHARON MALON)
https://storage.googleapis.com/pr-newsroom-wp/1/2020/08/WOMENS-HEALTH_RENAISSANCE_TRANSCRIPTadbreaks.pdf