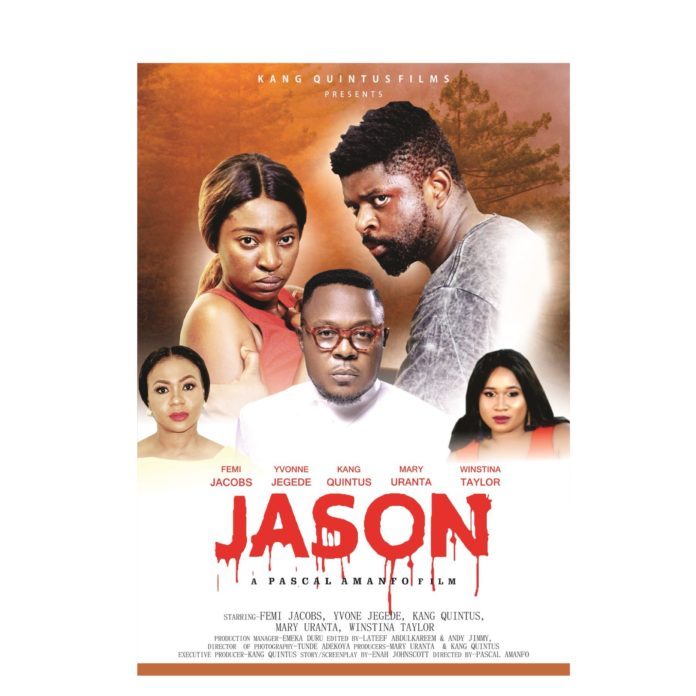 Kang Quintus Films is thrilled to announce the premier of its latest film "JASON", shot on locations in Lagos, Nigeria. The premier scheduled for September 30th, 2018 at the old Greenbelt Theatre, 129 Centerway, Greenbelt, MD 20770. The movie stars AMVCA Winner – Femi Jacobs, NAFCA Award winner – Yvonne Jegede, Method Actor – Kang Quintus, Multi-Talented Actress – Mary Uranta, & Sierra Leones Finest – Winstina Taylor JAS0N is directed by the multiple award-winning film maker – Pascal Amanfo, Director of Photography – Tunde Adekoya, Production Manager – Emeka Duru, Story/Screenplay – Enah Johnscott & Produced by the infallible – Mary Uranta.
SYNOPSIS:
JASON is the unfortunate story of a multi-gifted genius (JASON) who is caught up with the dreams of marketing his expensive ideas and his miserable home life with his tyrant wife TIMI. Her injurious critics of Jason's creative insights constantly forces him to abandon many extraordinary ideas. Battered by his wife's constant criticism and nagging, his confidence is washed down to zero. Even the crafting of one of Africa's most amazing rare breeds of 'real' painting that can hand him contracts, ends up in a trash can. Jason strikes a rendezvous with a no-nonsense time conscious millionaire who could change his life, but it turns out to be Jason's worse day on earth. A heart wrenching day that redefines his life forever. JASON the movie will take you through an emotional rollercoaster.
Starring: Femi Jacobs, Yvonne Jegede, Kang Quintus, Mary Uranta, Winstina Taylor.