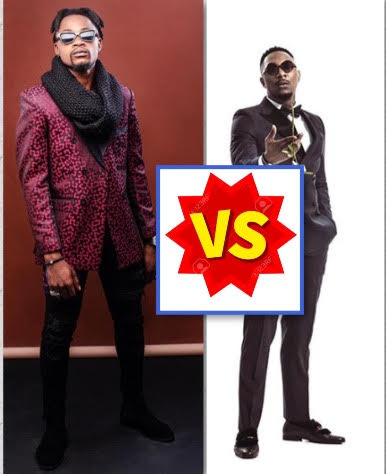 Fhish is one of the fastest rising artists in Cameroonian urban music as of now. After "Anti kirikou" he has been enjoying his newfound fame and recruiting new fans on a daily basis. In the Cameroonian music industry where it is so hard to make a breakout, Fhish's hard work is highly commendable.
Stanley Enow who is one of the most internationally acclaimed Cameroonian artists and has the highest number of international collaborations under his belt. He is the only Cameroonian artist with an MTV Award and arguably the most influential urban act from Cameroon. It should perhaps have been a thing of honour for Fhish, despite his recent fame and acclamation to be invited to Stanley's album launch which held at Las Vegas VIP Bonamoussadi, Douala. And as such, Fhish showed up with his entire squad or "government" as he calls it.
Due to some faults in the organization of the launch, Fhish and his "government" were reportedly not served drinks and not given the chance to perform as promised, and in a feat of anger, Fhish and one member of his "government" (probably the chief of cabinet) recorded a video decrying the poor treatment and raining insults on Stanley Enow and his record label Motherland Empire. They warned Stanley Enow and called his music "whack" and later in the afternoon of Friday, 16th November 2019, Fhish did a freestyle video with more insults on Stanley and his record label.
Now, it has been confirmed that Stanley's album launch may have suffered some faults in the organisation and though regrettable, it is quite understandable, organizational flaws happen all the time. However, what is highly regrettable and not very understandable abut the whole saga is Fhish's reaction. Looking at the issue with a keen eye, there's an obvious case of a guest being undermined, but, common sense will want Fhish to reach out to Stanley Enow's team and lay out his grievances with a good measure of decorum. But, in what is probably a wild-goose chase for clout, he decided to go out on a mission of disrespect and slander directed at both Stanley Enow and Motherland Empire.
For now, neither Stanley Enow nor Motherland Empire has bothered to respond to Fhish. we are left to wonder how this incident could possibly affect Fhish's career which is just taking off.
Already a lot of persons in the industry have criticized the manner in which Fhish conducted himself and this incident seems to dent his image in the sight of some older persons in the music industry. Do you think this move will bring a plus to his career or will it draw him back?